SIU members at Virginia Pilot Association late last year secured a new five-year contract that increases wages and improves benefits.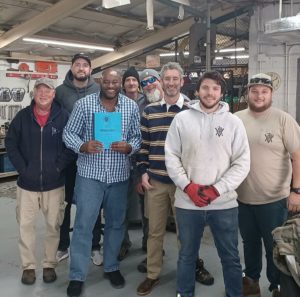 The agreement covers 24 Seafarers who work at the Virginia Beach, Virginia-based company. "We did really well. This is the best contract we've ever had," said Oliver Meyer, a launch operator who served on the negotiating committee along with fellow member John Cameron, SIU Vice President Atlantic Coast Joseph Soresi and SIU Port Agent DeCarlo Harris.
Meyer said he particularly appreciates the increased pension credits, along with the pay raises. He credited Soresi ("Joe was awesome") and also noted this was the first contract negotiated with new management at the company.
Like Meyer, Cameron hadn't previously served on a bargaining committee, but he said the experience went well.
"I'd heard some horror stories and I know it's never easy, but Joe was fantastic," said Cameron, who also is a launch operator. "We chimed in and voiced our opinion while remaining professional. Overall, we're really impressed and really thankful. It's the best contract we've ever gotten."
Seafarers at Virginia Pilot Association typically work one week on (with each work day consisting of a 12-hour shift) followed by a week off. During a work week, they sleep ashore at a headquarters facility that Cameron said functions similarly to a firehouse.
Soresi stated, "I'm glad the members are pleased with the contract, which I believe is a very fair agreement both for the union and for the company. This agreement means stability for everyone concerned."
###