SIU-contracted companies offer plentiful opportunities for employment aboard all types of vessels, including (but not limited to) deep sea cargo vessels, tankers, military support ships, Great Lakes vessels, cable ships, tugboats, passenger ferries and more.
If you already are a member of the SIU and are ready to ship, please register at one of the union halls. Click here for a list of SIU halls.
If you already have your merchant mariner credential/z-card and TWIC – and are not currently an SIU member – and are interested in joining the SIU, please contact the nearest SIU hall or visit the MyMaritimeCareer website. For a list of halls, click here. To visit MyMaritimeCareer.org, click HERE.
If you are interested in applying for the unlicensed apprentice program at the union-affiliated Paul Hall Center and its Seafarers Harry Lundeberg School in Piney Point, Md., click here for information on how to apply.
Both the SIU and the Paul Hall Center appreciate your interest.
Currently seeking:
For the veterans program at the Paul Hall Center, military veterans with Deck and Engine ratings in a watch-standing capacity who have sea time within the last seven years, honorably discharged.
Culinary specialists with food preparation experience and at least eight years of military service.
Through the school, you will have opportunities to obtain Basic Safety, Able Seafarer Deck or Able Seafarer Engine, and VPDSD endorsements.
Upon successful completion of the program, graduates are guaranteed a first job on board a U.S.-flag merchant vessel manned by the SIU.
Registered Nurses with emergency room experience (for MDR jobs)
Independent Duty Corpsmen
The SIU also is seeking mariners with active security clearances. These positions include but are not limited to STOS, QMED and steward department positions. The jobs are on various MSC vessels. Typically, rotations are 120 days on and 120 days off.
Please contact Bart Rogers at 1-800-732-2739
Qualified applicants will receive consideration for employment without regard to race, color, religion, sex, national origin, disability, or status as a protected veteran. The employer is an equal opportunity employer of individuals with disabilities. Salary can be adjusted at employer's discretion based on experience, skill, ability, seniority, and/or education.
Career Opportunities with Norwegian Cruise Line

SIU members are invited to check out shipboard opportunities with Norwegian Cruise Line for positions on board the M/S Pride of America in Hawaii.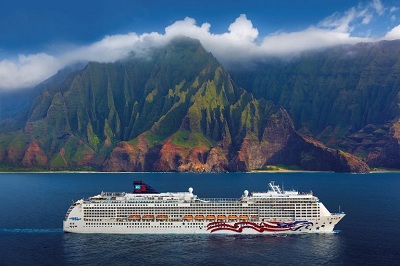 Recruiters are currently seeking experienced candidates for a variety of positions in the Hotel Departmentt.
For more information, visit www.ncl.com. Click the CAREERS section and go to SHIPBOARD EMPLOYMENT.
Follow Norwegian's Shipboard Careers Page on Facebook to stay updated on the latest opportunities! The next step in your professional career could be right around the corner!