The maritime industry proved a natural fit for Kathleen "Kate" Hunt, but that doesn't mean her career was easy.
She played pioneering roles along the way, including service as the first female patrolman for the National Maritime Union (NMU) and the first female member of the SIU executive board. She weathered a rocky stretch (not of her doing) at the NMU and later handled major responsibilities for two SIU-affiliated unions.
Hunt happily declared herself "finished with engines, my friend" when describing her decision to retire as vice president of the SIU Government Services Division, effective Aug. 1. She had been a vice president since 2018.
"I've worked since I was 14 years old," Hunt said. "I've never not worked. But initially, I will be sitting on a beach in Rhode Island, just looking out on the horizon. After that, I'm looking forward to a lot of family time. We've got lots of toddlers and babies in my family; I'd like to help my nieces and nephews, and just hang out with them. I'd also like to travel a little when the time is right."
Hunt comes from a maritime family (her father was an NMU port agent, and many other relatives sailed), so it wasn't shocking that she landed a job with a steamship authority in the 1970s. But her next move – sailing in the deck department of ferries in Cape Cod, Massachusetts, beginning in 1976 – was very uncommon for women in that era.
She came ashore as a patrolman four years later and continued serving as an NMU official until that union merged into the SIU in 2001, at which time she wasn't sure about her future.
"God bless (SIU President) Mike Sacco. He let me keep working," Hunt recalled. "He just wants people that like to work and do their jobs, so I did."
After the merger, Hunt was assigned as a representative for the SIU's Government Services Division, working with the SIU crews aboard Military Sealift Command vessels, NOAA research vessels and other government-owned ships. She'd done similar work for the NMU.
Hunt also worked as a representative of the Seafarers Entertainment and Allied Trades Union (SEATU), serving members employed in the Northeast while being based at the SIU's New York-area office.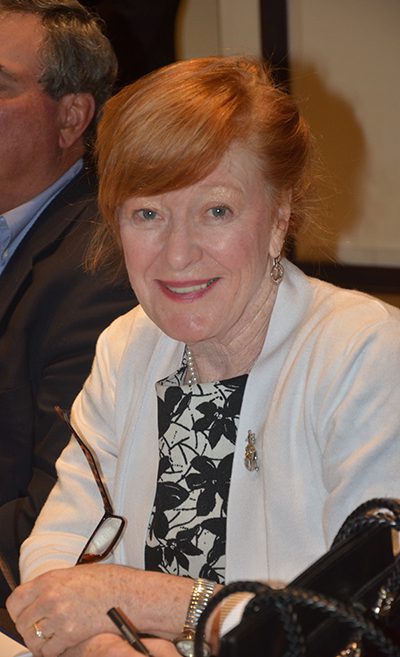 In August 2016, Hunt was appointed by the SIU's Executive Board to serve as the national director of the United Industrial Workers (UIW). In this capacity, Hunt oversaw dozens of UIW shops in the continental United States and Alaska and in the United States Virgin Islands. She held that post until her appointment (and subsequent reelection in 2020) as a vice president. "Kate is one of the hardest-working officials we've ever had," said SIU President Michael Sacco. "She's been a tremendous asset to the members, and she did a great job representing them aboard the ships."
"Kate is a complete professional," said SIU Secretary- Treasurer David Heindel. "Whatever task she took on was handled thoroughly and with the membership's interest in mind. She fought with vigor and usually came out with a win. Fitting into a male-dominated industry never distracted her. If anything, it played to her advantage. I would like to wish her a well-earned retirement and best wishes in her next phase of life. I'm betting she will be following Bruce Springsteen around the country while he's on tour."
Nicholas Celona, Hunt's successor as vice president, said, "It's an honor and a privilege to have known Kate and to have been a colleague. I hope she enjoys her next chapter of life, with fair winds and following seas."
SIU Assistant Vice President Government Services Division Joe Vincenzo stated, "Well done and a well-deserved retirement, Kate. It was a pleasure and privilege working with you over the years on UIW and Government Services contracts, issues and membership services. Enjoy that margarita on the beach!"
Capt. Andrew M. Lindey, vessel master aboard the USNS Comfort, included this succinct message when forwarding Hunt's farewell email to the crew: "We are losing our Tiger Mother." Capt. Keith A. Walzak of the USNS Grumman described Hunt as "always on our side and at our call."
In a written communication to Hunt, Chief Steward Valerie McCaskill said, "I just wanted to take a moment to thank you for being such an inspiration to the industry and myself. In the short time I was able to spend with you at the NOAA union contract negotiations, I learned so much from you. But the thing that truly captivated me was how you walked in the room with such authority, humility, and grace that commanded presidential respect and admiration from all. I was blown away. I had never seen that before and yet I loved every minute. From that day forward you have changed my perspective on how to represent women in the industry. Own who you are, command respect with humility, and never settle for their best offer but demand they give you what you deserve! Thank you for being such a phenomenally fierce powerhouse!" Looking ahead, Hunt said she has "full faith and confidence that Nick and the team that's already in place will be member-service oriented and do great things."
She cited the successful resolution of the "gangways up" beef as one of her biggest accomplishments (it involved prolonged restriction to ship during the pandemic), and also commended the work of former SIU Assistant Vice President Government Services Chet Wheeler and counsel Deborah Kleinberg (both are retired) for helping improve shipboard habitability standards.
"I think we led the way on that front," Hunt said. "We were and still are the lead on making sure that the standards aboard the ships are fair and equitable and decent, and that's also true of the hotels (where CIVMARS stay). You can't negotiate wages in the federal sector, so it's working conditions that we always focused on."
She added that while there are some differences in the federal maritime sector as compared to the private sector, "Seamen are seamen. And it always makes me happy when I go aboard a ship and you see someone you helped. I'd see guys years later who had redeemed themselves and had a decent career. I was always really proud we helped guys hold onto their jobs and maintain their careers."
Asked what advice she'd give to people entering the industry, Hunt provided a twofold answer. First, she said, "Join the union!" Second, "Just do your job."
Hunt said she will miss her colleagues, including fellow officials, members, and personnel from the government and the military.
"I really have been very blessed," she said. "All I ever wanted to do was be a good shipmate, and I think I've been that. I'm really at peace with my decision to retire. My only regret is that it's been a year since I've been on a ship."
###