August 2016
A recent change to the Seafarers Health and Benefits Plan has increased the dental coverage for all members, and AB Lindsey Austin was quick to take full advantage of the new, higher dental allowance.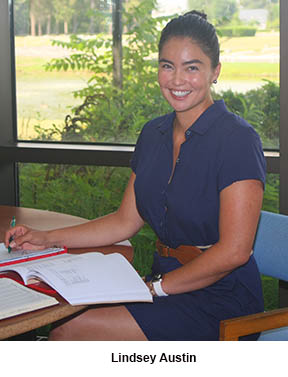 "The dental plan changed in May, and also started covering orthodontistry. I'm super excited to take advantage of the new yearly limits," Lindsey said in a recent interview.
A native of Honolulu, she began sailing with the SIU in 2013, after a previous non-union sailing career. After learning about the SIU from Honolulu Port Agent Hazel Galbiso, Lindsey joined the apprentice program at the Seafarers-affiliated Paul Hall Center for Maritime Training and Education in Piney Point, Maryland.
"The whole reason I joined the union was to use the school, and I use the [heck] out of it!" Lindsey explained.
As soon as the newly implemented changes took effect, she went straight to her orthodontist. She said, "I got my first appointment in May, and started an Invisalign program." (Invisalign is a brand of clear, nearly-invisible braces.)
She continued, "It's an eight-month [treatment], and the benefits program provides a huge discount."
In a letter to plan participants, Seafarers Plans Administrator Maggie Bowen said the following about the improved coverage: "Previously, the maximum dental benefit for employees and their dependents at the Core-Plus benefit level was $750 per calendar year, and the Plan had a schedule which specified the amount it would pay for each service. In addition, there was a $1,000 lifetime maximum for orthodontia. Beginning on May 1, the Core-Plus dental benefit is being increased to $2,000 per calendar year for each eligible person."
Additionally, there is no longer a dental schedule, which means participants can use this benefit for any necessary procedures and they will be reimbursed. The lifetime maximum for orthodontia has been increased to $4,000 per person (orthodontic services count toward the annual $2,000 maximum).
As with all health benefits, participants will save money by using in-network providers. To locate an in-network provider, visit www.cignadentalsa.com. Participants should send all dental claims to the Plan directly at the following address: Seafarers Health and Benefits Plan, P.O. Box 380, Piney Point, 20674.
###