July 2016
Given the regular turnover on Capitol Hill as well as ongoing attacks against U.S.-flag shipping, the importance of the annual Maritime Industry Congressional Sail-In arguably has never been greater.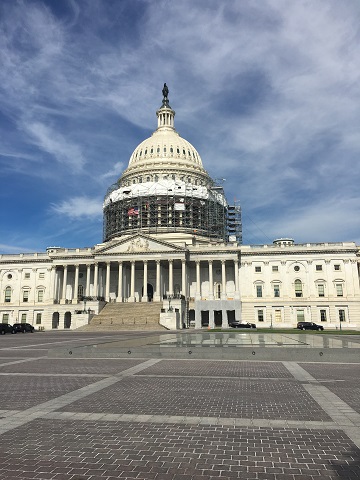 With that in mind, SIU officials and industry allies were quite motivated and enthused to deliver pro-maritime messages throughout the day June 14. During the seventh annual Sail-In, roughly 100 representatives from maritime labor and business (working in small groups) conducted more than 100 meetings with U.S. senators, congressional representatives and staff members from both parties in the nation's capital. They took advantage of Flag Day to promote keeping Old Glory on vessels sailing the oceans, inland waterways, Great Lakes, ports and harbors.
The SIU participants included Executive Vice President Augie Tellez, Vice President Contracts George Tricker, Vice President Gulf Coast Dean Corgey, Vice President Government Services Kermett Mangram, Port Agent Elizabeth Brown, Port Agent Pat Vandegrift and Legislative Director Brian Schoeneman.
As in past years, the Jones Act was a main topic throughout the day. Working in teams that paired labor and business, the Sail-In crews thanked many members and Hill staff for their longtime support of the nation's freight cabotage law, including the defeat by the House Rules Committee of an anti-Jones Act amendment to the Puerto Rican financial measure the week before. At same time, they asked the legislators and their aides to remain vigilant concerning further attempts to weaken the law.
While the Sail-In was taking place, uniformed U.S. commercial flight crews were working the Hill opposing the Obama administration's approval for Norwegian Air International's (NAI) application for a foreign air carrier permit, which would create an airline flag-of-convenience. Sail-In participants and pilots in separate meetings told members of Congress any effort that weakens the Jones Act or allows NAI access to U.S. air space by overriding cabotage laws would cost American jobs.
In addition, Sail-In groups promoted efforts already under way on the Hill to increase the annual amount being provided to U.S.-flag shipping companies involved in the Maritime Security Program (MSP). The highly successful and effective program includes up to 60 militarily useful U.S.-flag vessels which would be made readily available in time of war or national emergency, along with their intermodal components.
While the MSP has been approved through 2023, it still faces an annual appropriations vote. The House OK'd $5 million per ship in its Fiscal Year 2017 budget package, but the Senate – which is still working on its document – is considering a lesser amount.
The MSP has received strong bipartisan support through its 20 years of service to the country. Sail-In crews sought approval for full funding for MSP for 2017 and coming years.
Members of Congress were thanked for their support of the nation's cargo preference laws and their successful efforts to recharter the U.S. Export-Import Bank. As with the Jones Act and the MSP, Sail-In representatives showed how all of these help maintain a strong, viable U.S.-flag fleet and reliable American crews which are critical to national defense and the economy.
Sail-In groups also urged members of Congress to support the Vessel Incidental Discharge Act currently being considered on the Hill. This measure would create a single set of regulations at the federal level for the handling of ballast and runoff water from ships within U.S. territorial waters. Presently, many states and local jurisdictions have established their own laws which may differ greatly in just a few miles, causing confusion and consternation for vessel crews and companies.