Tellez: Don't Question U.S. Merchant Marine's Willingness to Answer the Call
The SIU is fully backing new, bipartisan legislation aimed at boosting American's maritime industry.
SIU Executive Vice President Augie Tellez spoke May 22 at a Capitol Hill press conference announcing the Energizing American Shipbuilding Act of 2018. Co-sponsors U.S. Rep. John Garamendi (D-California) and U.S. Sen. Roger Wicker (R-Mississippi) kicked off the conference; other members of Congress also addressed the audience, as did industry and labor spokesmen.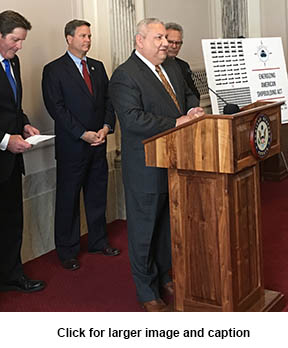 Tellez noted that despite supportive comments from many sources leading up to National Maritime Day (observed each year on May 22), the far more important political action hasn't matched the rhetoric.
"As foe and friend alike understand this and expand their maritime prowess, we languish on the vine, operating with an international fleet that's been reduced to a number that's nothing short of a disgrace," Tellez said.
He also pointed out that the industry collectively is fighting against a newly hatched effort to kill America's cargo preference laws.
"It gets even worse," he continued. "We now have senior folks – civilian and in uniform – questioning whether our people will go into harm's way. To those naysayers, I say look at the record. Read your history books. From the founding of this republic to Iraq and Afghanistan, and in every crisis and conflict in between, we have shown up. And whether or not we show up for the next one is not a question of our courage and will, but of yours. Does this country have the courage and will to maintain and support a viable merchant fleet that's going to get the job done? All we need is the capacity and the tools, and we will get the job done. This legislation is a step in that direction."
Tellez added that the new legislation "creates good-paying jobs – thousands of them, at sea and ashore."
His full remarks appear at the five-minute mark of this video from the press conference:
https://www.youtube.com/watch?v=lqAP1T43uOE
Congressman Garamendi's office issued the following news release concerning the bill (available directly on his website HERE)
Congressman John Garamendi and Senator Roger Wicker Introduce the Energizing American Shipbuilding Act of 2018
WASHINGTON, DC – Today, Congressman John Garamendi (D-Fairfield, Davis, Yuba City, CA), the Ranking Member of the Subcommittee on the Coast Guard and Maritime Transportation, introduced in the House of Representatives H.R. 5893, the Energizing American Shipbuilding Act of 2018. The legislation seeks to rebuild America's domestic shipbuilding and maritime industry by requiring a small percentage of exported crude oil and liquefied natural gas (LNG) be transported on U.S.-built and U.S.-flagged vessels by 2040. The bipartisan bill, which would require the construction of over fifty ships and the creation of thousands of maritime and mariner jobs, is being carried in the Senate by Senator Roger Wicker (R-MS).
Garamendi and Wicker introduced the bill at a press conference together with Coast Guard and Maritime Transportation Subcommittee Chairman Duncan Hunter (R-CA) and the Chairman and the Ranking Member of the House Armed Services Seapower Committee, Congressman Rob Wittman (R-VA) and Congressman Joe Courtney (D-CT), Congressman Donald Norcross (D-NJ), as well as representatives from the shipbuilding industry, the maritime industry, the iron and steel industry, and labor leaders.
"Rebuilding America's shipbuilding and mariner base is an idea that unites Democrats, Republicans, metallurgical trades, the business community, labor, and our armed forces," said Garamendi. "These industries are not only vital to our economy—they're vital to our country's national security. Congress has neglected our maritime industry for too long, to the point that we're now several dozen merchant ships and 1,800 mariners short of what's needed to guarantee sufficient sealift support in times of crisis. This bill seeks to turn the ship around by taking advantage of America's energy export boom to bring back American shipbuilding, shipyard, and mariner jobs. rather than continuing to outsource them to countries like China. I believe this bill is the start of a long-term reinvestment in the idea of America as a maritime, seafaring nation."
"The domestic maritime industry supports hundreds of thousands of American jobs and is critical to our military readiness and national security," said Wicker. "This bill would strengthen our shipbuilding industry and would recognize the importance of having more American-flagged ships to transport our growing exports of oil and natural gas. China, India, and other nations are investing heavily in their shipbuilding capacity. The United States must keep up."
"We can have the best military equipment and trained warfighters in the world, but without the sealift capacity to get them to where they need to go, it doesn't do much good," said Congressman Hunter.  "Today, the US international fleet has fallen to about 80 ships from a high of more than 1200 during World War II. Unless we reverse that trend, our nation will be forced to rely on foreign countries for force projection, a situation we cannot allow to happen. This legislation will strengthen America's shipbuilding base by ensuring we have the necessary industrial infrastructure and skilled labor pool of welders, fitters and sailors needed to rapidly mobilize in times of conflict. This bill will have strong national security implications and I applaud its introduction."
Congressman Rob Wittman: "Continued Congressional support of a healthy commercial maritime industry and U.S. Merchant Marines is essential to domestic security. Despite the usage of heavy lift aircraft, large oceangoing vessels remain crucial to military mobility in the 21st century. U.S. troops stationed in the Middle East and Afghanistan receive much of their supplies via U.S. flag vessels because of their capacity and low cost. Bringing manufacturing and maritime jobs back home will not only help in the event of a disaster but will also show our domestic industrial base that we support them."
Matthew Paxton, President, Shipbuilders Council of America: "The Shipbuilders Council of America is proud to endorse the Energizing American Shipbuilding Act and would like to thank Congressman Garamendi and Senator Wicker for their efforts to ensure that U.S. produced energy is exported on U.S. built ships. This legislation would invigorate the critical shipyard industrial base which is comprised of more than 400,000 highly skilled men and women across the U.S. This industrial base is not only essential to our economic security but also our homeland and national security. SCA applauds your commitment to our industry and this important piece of legislation."
Riley Ohlson, Vice-President for Federal Affairs, Alliance for American Manufacturing: "The Alliance for American Manufacturing lauds the introduction of the The Energizing American Shipbuilding Act. This bipartisan legislation will strengthen our national security and create good jobs by requiring that a rising percentage of our oceangoing LNG and crude oil exports are shipped on U.S.-built vessels operated by U.S. mariners. A healthy industrial base is key to our economic and national security. The recent growth in U.S. exports of LNG and crude oil present an opportunity to leverage these developments to foster a robust and resilient shipbuilding industry at the ready to meet our maritime commerce and security needs. At the same time, this bill will support and create good jobs at shipyards across the country and throughout the supply chain."
Thomas J. Gibson, President and CEO of the American Iron and Steel Institute: "The steel industry is an economically vital part of the manufacturing supply chain and the backbone of U.S. manufacturing. By requiring a significant portion of the iron and steel used on oil- and LNG-exporting vessels be U.S.-produced, this legislation supports the international competitiveness of the domestic steel industry, especially in a global marketplace that is often undermined by unfair trading practices, foreign government subsidization and overcapacity."
Navy League National President Alan Kaplan: "American mariners and the U.S. shipbuilding industrial base are a crucial part of our national security, delivering crucial armaments and supplies the warfighter needs on U.S.-built ships. This bill ensures there will be enough American mariners and U.S.-built ships in the future to support the needs of our men and women in uniform."
American Shipbuilding Suppliers Association President Chris Cikanovich: "The American Shipbuilding Suppliers Association (ASSA) is in full support of the Energizing American Shipbuilding Act. We are proud to be part of some amazing supporters of this bill and look forward to it being passed to help further benefit and grow our American manufacturing base."
American Maritime Officers National President Paul Doell: "American Maritime Officers stands in strong support of the Energizing American Shipbuilding Act. This legislation recognizes the critical roles of American shipyards and the U.S. Merchant Marine in national and homeland security and U.S. commerce. It sets a course for the invigoration and expansion of vital American infrastructure and expertise, and for the lasting creation of jobs for American mariners and shipbuilders – a base of professionals upon whom the U.S. military depends for our nation's strategic sealift capabilities."
Bob McCracken, Vice President and General Manager, Nucor Steel Hertford County: "Nucor Steel Hertford County produces nearly 1.5 million tons of high quality steel plate for many of America's critical security needs.  In fact, we are one of only two mills in the U.S. that make the armored plate being used in the next generation of aircraft carriers. We would be proud to support the production of more energy exporting vessels and commend the sponsors of this legislation for requiring that the steel used is melted and poured in the U.S., guaranteeing that the know-how and technology to build these ships will be found in America for decades to come."
Bill Van Loo, Secretary-Treasurer of the Marine Engineers Beneficial Association: "The men and women of the Merchant Marine provide vital military and economic capacity that cannot be replicated elsewhere. Day in and day out, our members demonstrate a willingness to sail into danger in order to supply our military overseas. When foreign vessels and foreign mariners turn away, American vessels and American mariners will always heed the call to service. This legislation will add desperately needed ships and jobs to the U.S. fleet. We look forward to working with the sponsors to ensure that this legislation becomes law."
James, L. Henry, President, Transportation Institute: "We welcome the trained and skilled American mariners along with the sustainment of our nation's shipyard industrial base resulting from the passage of this legislation."
Klaus Luhta, Vice President, Masters, Mates and Pilots: "We are thankful these leaders from both sides of the aisle recognize the critical impact American ships and the maritime industry have on the American economy."
Robert LaVenture, Director, United Steelworkers District 12: "The United Steelworkers supports efforts to protect our national security by ensuring that we have a viable American steel industry. By requiring American-made iron and steel for the hull and superstructure, this legislation will incentivize capital investments and job creation throughout the metals supply chain."
###