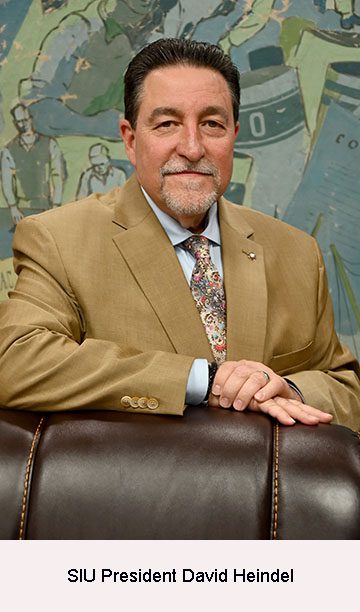 Delivering the Goods
As this edition went to press, SIU members stepped up to deliver vital cargo for the war in Israel. This type of voyage is never taken lightly, and while there's no way to know how many additional trips may occur, I want to publicly thank those Seafarers who have already answered the call. As I mentioned in correspondence sent directly to the ship, you are a credit to the union and to your profession. You have maintained the high standard of the Brotherhood of the Sea.
I'm sure we'll be at liberty to mention more details down the line, but for now, please know that your fellow Seafarers appreciate your dedication and your professionalism.
As has been reported by our military, SIU-crewed ships also continue transporting materiel for the war in Ukraine. Here again, our members exemplify what it means to serve as part of America's fourth arm of defense, in peace and war.
Keep up the great work and please know that your union fully stands with you at all times.
Making Progress
If you follow our social media accounts, you undoubtedly have seen plenty of photos of our folks on the recruiting trail. We also are publishing several of those images on the back page this month, along with a short recap of some recent outreach.
The bottom line is that we are making progress, and we're committed for the long haul. It's a lot of work and it is vital to the future of both our union and our industry. We are building new partnerships along the way, which stand to benefit all concerned, as well as the nation at large. America needs a strong U.S. Merchant Marine, for reasons you all know. We don't need any further incentives to keep us energized for recruiting, but the importance of our industry does help stoke the fire.
We're also making some headway in our efforts to ease the regulatory burdens on individual mariners. As you can imagine, there isn't a quick fix when tackling this sort of task, but I think we're getting on the same page with allies from the Coast Guard (among others), and, as with recruiting, we're not letting up.
Finding a Home
Be sure to read this month's article about the newest class of recertified bosuns. Those members are among the ones who know our union the best, and their personal comments really say a lot about the life-changing opportunities available in the SIU.
I particularly appreciated how many of the bosuns described how they found a home with the SIU, and how their careers enable them to provide for their families. That is really what we're all about.
As someone who has spent my entire life with the SIU, I understand that, like any organization, we have some imperfections. But I am genuinely proud of our many strengths, starting with our rank-and-file members, continuing with our dedicated officials, and extending to everyone who works at our affiliated school in Piney Point. I truly believe we are a winning team, and our best days are ahead.
###