Excellent Opportunities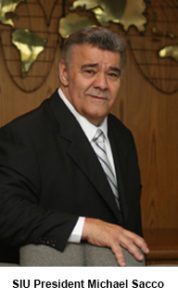 Although the global COVID-19 pandemic is ongoing, there's a lot of discussion about what various workplaces will look like when it's finally, fully behind us. Employers and employees alike have seen the benefits of telework – and, if they're being honest, they've seen the drawbacks, too.
I'm sure there won't be a one-size-fits-all answer, simply because there are so many variables. Some jobs flat-out require hands-on, in-person work. Others could mostly be done without a traditional office, while many more are somewhere in between.
Since I got vaccinated, I've taken advantage of several chances to informally chat with workers from outside the maritime industry. Those conversations help me get a real-world feel for how our shipboard jobs compare to others that are out there.
While we're always striving for improvement, I believe – more strongly than ever – that we've got a lot to offer. With very few exceptions, our contracts steadily boost wages, and they always help ensure safe working conditions. Our benefits are second-to-none. The Seafarers Health and Benefits Plan, for instance, processed nearly 11,000 claims for members and dependents in June alone, and those claims were worth millions of dollars.
The Seafarers Pension Plan is in fantastic shape, and eligible members can also take advantage of vacation benefits.
Best of all in my view, Seafarers can upgrade at our affiliated school in Piney Point, Maryland: the Paul Hall Center for Maritime Training and Education. The school is an open gateway for higher-paying jobs. We fought hard to make the school a reality, and I hope you share my pride in it.
Upgrading takes sacrifice, but in the long run it pays off. And I don't think you can find a similar opportunity in other industries, no matter where you go. Take advantage of the opportunities to increase your knowledge and make more money. Brothers and sisters, that's a winning formula, and it's a big part of what the SIU and the school offer.
You Delivered
The pandemic in some ways may feel like one big blur, but I want to point out that Seafarers delivered throughout this ordeal – and you continue getting the job done today. Going back to when this all started, we haven't had a single ship lay up due to lack of manpower. On that note, I thank our rank-and-file membership, our port agents, patrolmen and staff, and our area vice presidents and assistant vice presidents. As always, it has taken a total team effort to get the job done. And as always, you've come through.
Eye-Popping Numbers
If you've read these columns for any length of time, you know I pick my spots when it comes to tossing out statistics. They can be a little too convenient at times, and context is very important. (You may have heard the very old saying that there are three kinds of lies: lies, darn lies, and statistics.)
Nevertheless, this data hits like a sledgehammer, and I don't think it's open to misinterpretation. A closely estimated 99.5 percent of all COVID-19-related deaths in the United States occur among unvaccinated people, while 0.5 percent (half of one percent) of COVID deaths occur among vaccinated people.
As you let that sink in, consider it part of my monthly plea to anyone who's able to take the vaccine but hasn't yet done so. I got vaccinated and I believe the vaccines are safe and effective. They're essential to our continued ability to deliver. More importantly, they are proven life-savers.
###