Time for Growth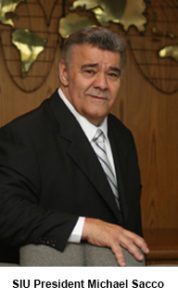 Earlier this year, the SIU teamed up with several other maritime unions to share our blueprint for American maritime growth with the new administration.
In modern times, there have been long stretches where it felt as if the best-case scenario for our industry was simply hanging on. That is absolutely not the case today, and we've got to capitalize on this very real opportunity to boost our manpower pool, build new ships, and grow our fleet.
Many of you know that President Biden and Vice President Harris are longtime backers of the U.S. Merchant Marine. This was evident during last year's campaign and again when the administration issued its Buy American executive order in late January. That document specifically stated strong support for the Jones Act, a critical maritime law that helps maintain hundreds of thousands of American jobs.
That's not the only good news we've reported in recent months. The establishment of a Tanker Security Fleet bodes well for not just our industry but our country, as does the application of the Jones Act to offshore domestic wind farms. Pro-maritime, bipartisan legislation recently was reintroduced in both chambers of Congress that would lead to more domestic shipbuilding and increased exports moving on U.S.-flag ships.
But our industry cannot afford to collectively exhale. We've got to navigate forward and seize these opportunities while they exist.
That is why the SIU and other shipboard unions wrote to President Biden, "We believe that with your leadership and support, and with the support of Members of Congress, we now have the opportunity to develop an effective national maritime policy that increases the number of vessels operating under the U.S.-flag, the amount of cargo carried aboard U.S.- flag ships, and the number of jobs for American merchant mariners."
A potentially key step toward helping ensure that American ships have enough cargo is sensibly modifying our country's cargo preference laws. That is why we're pushing for a percentage increase for non-Defense, government-generated cargoes reserved for American-flag ships from the current 50 percent to 100 percent. This is consistent with the intent of the executive order and there is no doubt it would help solidify the U.S.-flag fleet.
Other important steps that would help include establishing tax incentives for transporting cargoes on U.S.-flag ships, negotiating cargo-sharing agreements with our country's trading partners, and fully funding both the new tanker program and the longstanding Maritime Security Program (on which it was patterned).
I'm excited about the prospects that lie ahead for the U.S. Merchant Marine, and I look forward to continuing our work in Washington and elsewhere to boost our industry.
More on Vaccines
It took a lot longer than I wanted, but I'm finally scheduled for my COVID-19 vaccines this month. Availability has been the biggest challenge with the vaccines all across the country, but it looks like ample supply is just around the corner. As the president noted, the month of May appears to be the turning point, and by Independence Day we may finally be back to (mostly) normal.
The other big challenge with the vaccine rollout has been educating the public. On that note, I strongly encourage every Seafarer to get the facts, as always. Read our coverage in the LOG and on our website, visit the CDC website, and stay on top of the latest developments. And note that the SIU continues pushing for mariners to be prioritized for vaccine access.
Personally, I am completely comfortable taking the vaccine because I believe they're safe and effective. But I understand that many people are hesitant, and those feelings themselves aren't subject to debate. Again, though, I urge you to gather as much information, from as many reliable sources, as is reasonably possible. I'm confident that the more you learn about the vaccines, the more you'll share my belief that they're not only safe, but also essential for protecting you, your families and your shipmates.
###