Although the COVID-19 global pandemic is far from finished as of this writing in mid-December, I extend one last 2020 "thank you" to all Seafarers and their families for a job well done in the face of unprecedented challenges. Your work has never been more important, and you consistently have risen to the occasion. Well done, SIU brothers and sisters.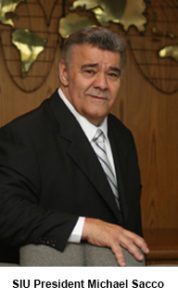 At the same time, we all have to continue following safety protocols, thereby protecting ourselves, our loved ones and our shipmates. There is daylight on the horizon in the form of vaccines, but we're not there yet. Stay safe! We've all come too far to let down our guard. Besides the eventual end of the pandemic, we have other things to look forward to in our union and our industry. As reported elsewhere in this edition, American- flag shipping scored several enormous wins in the newest Defense bill, including a new Tanker Security Fleet and reinforced protections for the Jones Act and cargo preference laws. I am confident that these developments will mean new job opportunities for Seafarers during this decade, and I'm equally sure that they'll boost U.S. national, economic and homeland security.
Additionally, as noted during the December membership meetings and also in this edition, I'm happy to report that SIU-backed candidates fared quite well on Election Day. This, too, bodes well for our industry. The more people in Congress (and other levels of government) who understand our industry, the better. As always, we'll reach out to newly elected representatives to introduce ourselves and to explain why America needs a strong merchant marine.
On that note, some of you may know that President-Elect Biden and Vice President-Elect Harris are longtime friends of the SIU and unwavering backers of the Jones Act. They know our industry and they'll be allies when it comes to protecting workers' rights, too.
We have a lot of friends in the outgoing administration as well, and if that seems odd or unlikely in any way, remember that maritime is a historically bipartisan issue. We've always had friends from both major political parties, and we'll always work with anyone and everyone who's willing to stand up for the U.S. Merchant Marine and for America's working families. Regardless of how you voted and for whom, I hope you share my encouragement at the record turnout across our great nation. This happened despite a pandemic that's unprecedented in modern times.
Pre- and post-election polls also showed widespread support for workers' rights and for an economy that boosts the middle class. This is firmly in line with our union's work since our founding in 1938.
I'm not blind to the wide range of emotions that accompanied Election Day and the sometimes-agonizing moments that followed. Just remember that we all love our country and we'll all be better off by finding common ground, working together and treating each other respectfully.
As Seafarers do every day when they've signed aboard a vessel, let's move forward together as one crew in 2021.
###