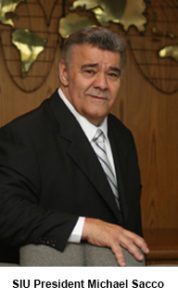 Power of Solidarity
Both during the recent government shutdown and throughout the teachers' strike in Los Angeles, union members showed the enduring power of collective action and solidarity. Grassroots mobilization, standing up for the truth, and having each other's backs led to positive outcomes in both cases.
Community outreach across the country also proved very uplifting, and unions were very involved in those efforts as well. Specifically concerning the shutdown, I'm proud of SIU members and our union collectively for making donations, rallying, and simply offering encouraging words along the way. In some cases, we were reaching out to our own: NOAA crews who are part of the SIU Government Services Division.
Both the successful strike and the rank-and-file pressure that led to ending the shutdown underscored that when we stick together, we win together, as AFL-CIO President Rich Trumka often puts it. That's a good lesson to remember as we move forward in protecting workers' rights and reminding folks about the power of collective action.
America Needs the Jones Act
Since the founding of our country, America's Merchant Mariners have answered the nation's call – no matter how big the task, no matter when. These men and women, including our own Seafarers, are America's fourth arm of defense.
On the books for nearly a century, the Jones Act helps ensure that the United States will have world-class American mariners ready and available at a moment's notice to crew U.S.-flag ships around the world. We saw that in Puerto Rico when Jones Act vessels arrived within hours of the Port of San Juan reopening after Hurricane Maria. We saw that when U.S.-flagged vessels with American crews who had sailed aboard Jones Act ships along the coasts and on the Great Lakes formed a steel bridge of supplies to U.S. armed forces during Operations Desert Storm and Desert Shield. We saw that in 2009 when Jones Act crews immediately rescued passengers and crew after a US Airways jet had an emergency landing in the Hudson River.
The Jones Act serves and protects our country. Anyone who says otherwise either doesn't know the facts or has an agenda that's contrary to the best interests of the United States of America.
Keep that in mind as the misguided attacks against our nation's freight cabotage law continue.
Maritime Trades Department
As of this writing, the Maritime Trades Department is preparing for the winter meeting of its executive board. We'll have full coverage in next month's LOG.
If you're new to the SIU or otherwise not completely familiar with the MTD, it's a constitutional department of the AFL-CIO – and it's one of our most important affiliations. The MTD, of which I also serve as president, has 23 affiliated unions with a combined membership of around 5 million. The MTD also has a network of 21 port maritime councils that function a lot like central labor councils or area labor federations. The port councils (who were among the organizations stepping up to support furloughed workers) help provide American and Canadian maritime workers with a strong grassroots presence in port and coastal cities and towns across both nations.
Like our association with the AFL-CIO, the SIU's affiliation with the MTD is a vital tool for amplifying our voice when we're standing up for the Jones Act, the Maritime Security Program, cargo preference, workers' rights and more. It gives us a greater chance of success for revitalizing and maintaining a strong U.S. Merchant Marine, and that's why we proudly align with this indispensable department.