Rep. Rutherford Speaks in Support of Nation's Freight Cabotage Law
First-term U.S. Rep. John Rutherford (R-Florida) stood up for the Jones Act during a March 15 hearing conducted by the House Homeland Security Committee. The hearing's main topic was "Preparedness, Response, and Rebuilding: Lessons from the 2017 Disasters."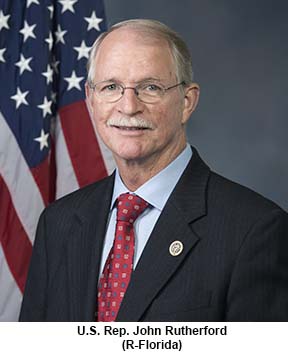 During his time to question Federal Emergency Management Administrator Brock Long, the Jacksonville congressman said the Jones Act – the nation's freight cabotage law – did not stand in the way of relief coming to Puerto Rico after Hurricane Maria.
He recalled to the administrator news broadcasts containing false information "about the Jones Act and the cost of goods and services [in Puerto Rico]. And folks were actually improperly describing how the Jones Act even works, talking about – I heard an individual in Jacksonville on the news talking about the reason it costs so much is because foreign vessels have to sail into an American port, drop those goods off and then reload those goods onto an American-flagged ship and sail it down to San Juan. Wrong.
"Those foreign ships can sail directly into San Juan, and they do all the time," Rutherford added.
Later in the hearing, Rutherford challenged a written statement offered by Jose Melendez-Ortiz, vice chairman for the Committee on Federal and International Relations, and Status for the Commonwealth of Puerto Rico.
In the document presented to the committee, Melendez-Ortiz called for adjustments his organization believed are needed for emergency preparedness and recovery in the wake of future natural disasters.
Rutherford noted that first on the proposed list was waiving the Jones Act, something President Trump did for a 10-day period after Hurricane Maria.
"And fact of the matter is after waiving the Jones Act exactly one – one foreign vessel sailed from an American port into Puerto Rico," he told Melendez-Ortiz. "I take great pride in the fact that the American maritime industry, particularly our Jones Act vessels under TOTE and Crowley in Jacksonville are really – I look at them as the first responders for Puerto Rico," added the former three-term sheriff of Duval County, Florida.
"They have that built-in efficiency and effectiveness. And they had actually prepositioned goods at our port so that they could get them to San Juan more quickly," Rutherford remarked.
###