Nolan Underscores Maritime Industry's Reliability
The top executive at a major, Seafarers-contracted maritime company recently spelled out the consistent reliability and outstanding performances of U.S. mariners and the U.S.-flag industry as a whole.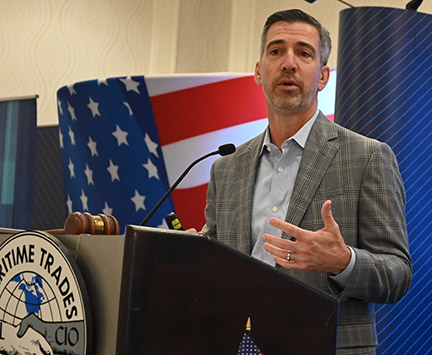 TOTE Maritime President and CEO Tim Nolan addressed the Maritime Trades Department (MTD) Executive Board Feb. 16 near Orlando, Florida. He repeatedly praised U.S. crews (including SIU members) for their efforts during the pandemic as well as during various disaster-relief missions. Nolan also noted that while supply-chain problems grabbed headlines during the pandemic, the Jones Act fleet remained on schedule.
He said that when the pandemic began, U.S. mariners "answered the call and they stood watch to ensure that the communities that depend on us, and the country that depends on us – they were there to serve…. This was another one of those proud moments. There was a lot of publicity out there for the transportation industry. You want to talk about unsung heroes? It's our U.S. mariners."
He added that, particularly in 2021, "we saw congestion at the ports. We saw ships out at anchor. We saw congestion on the railroads…. One thing we didn't see were those same problems (in the Jones Act trade). Why? The Jones Act (fleet), with U.S. ships and U.S. flags and U.S. mariners, were ready to deliver. They provided the same reliable, on-time, week-in, week-out service to each one of those places, without delays. They weren't at anchor for weeks at a time. They weren't lacking equipment. They had everything they needed to provide reliable service."
Nolan described his company's "pride of being a Jones Act operator. We are very proud to be part of the American maritime industry – an industry that provides for over 650,000 jobs; an industry that has built over 40,000 vessels; an industry that provides $41 billion in labor compensation; and an industry that provides $154 billion in annual economic impact. That's some industry.
"We're also an industry that leads from the front," he continued. "When you talk about innovation, the U.S. maritime industry is the first to develop and deliver an LNG-powered containership, back in 2015. These are still the most environmentally friendly ships in the world."
Those aren't the only investments made by TOTE or other companies. Nolan pointed out there are five multi-mission vessels being built at Philly Shipyard, and that wind energy opportunities are "actually being implemented as we speak, with assets being built and ships soon to be deployed."
"But the most important of that reinvestment is from our labor partners: back into our mariners," he said. "Educating them to ensure we have the best and brightest in the world to crew and manage our ships, on behalf of the companies and the U.S. government as a whole."
He then recapped the industry's disaster-relief efforts in Puerto Rico and the Gulf during the last five years. Nolan said in particular that the collective response by maritime labor and Jones Act carriers following Hurricane Maria in 2017 was "one of the proudest moments in my career…. It was the Jones Act vessels, manned by U.S. crews, that came in with the needed support. Labor, both shore-side and on the ships, worked 24/7 to provide."
Nolan wrapped up his remarks by stressing the need for safety, quality of life aboard ship, inclusion, and training. On the latter point, he said there is "no better example than Piney Point," referring to the SIU-affiliated Paul Hall Center for Maritime Training and Education, based in southern Maryland.
He concluded, "The U.S. maritime industry will always be ready to answer the call."
###