SIU Assistant Vice President Bryan D. Powell has been appointed to serve as a member of the Board of Directors of the Detroit/Wayne County Port Authority, for a four-year term (2017-2020). The Wayne County (Michigan) Commission unanimously voted in favor of the appointment on March 2.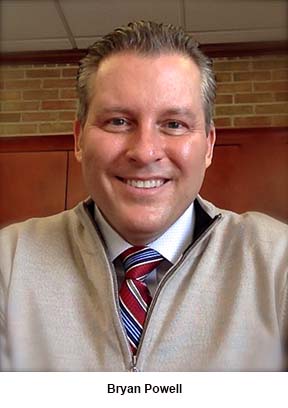 Powell launched his career with the SIU at the union-affiliated Paul Hall Center, attending the apprenticeship program in 1993. In 1999, he came ashore to work as a union official. Since then, while actively working on organizing and start-up projects nationally, Powell has served in several locations, including Baltimore; Camp Spring, Maryland; Piney Point, Maryland; Houston; Jacksonville, Florida; Wilmington/Los Angeles; Seattle/Tacoma; Oakland, California; Mobile, Alabama; Honolulu; and Algonac/Detroit.
Additionally, Powell is an assistant vice president for the SIU-affiliated Seafarers Entertainment and Allied Trades Union (SEATU). He is active with the Detroit Metro AFL-CIO and Michigan State AFL-CIO, as well as the Michigan Building and Construction Trades Council, AFL-CIO. Powell is a member of the Propeller Club of the United States, the Labor and Employment Relations Association (LERA), and the Society for Human Resources Management (SHRM). He holds a bachelor's degree in business management, and master's degree in business administration with doctoral studies.
John Loftus, Executive Director of the Detroit/Wayne County Port Authority, said, "The appointment of Bryan Powell to the Port Authority Board is a very positive move for the Port Authority. Bryan's deep and broad understanding of the maritime industry, in the Great Lakes as well as the rest of the country, and his local labor connections and his national political reach, through the Seafarers International Union, will be a real asset to the agency, our maritime community, and the people of Detroit and Wayne County."
Wayne County Commissioner Diane Webb said, "I am very proud of the Wayne County Commission's appointment of Bryan Powell. Mr. Powell is an incredibly dedicated and effective union leader with vast maritime experience, both local and abroad. He is also a well-educated and articulate visionary that will foster the necessary relationships in the private and public sectors to maximize the potential of the Port on behalf of the City of Detroit, Wayne County and the entire region."
"I am very passionate about the maritime industry, and especially the role the Port Authority plays in economic development for the Great Lakes region," Powell said. "I am honored to receive this appointment, and proud to serve the people of Detroit and Wayne County, and the Michigan maritime community."
Port Authority Board Members serve four-year terms, without compensation.
For more about the Detroit/Wayne County Port Authority, go to: www.portdetroit.com
###