The US Navy issued the following news release on January 17. The USNS Able is operated by Crowley Maritime. The news release can also be viewed here.
USNS Able Visits Yokosuka during Indo-Asia-Pacific Deployment
Military Sealift Command ocean surveillance ship USNS Able (T-AGOS 20) arrived at Fleet Activities Yokosuka Jan. 16 for a port visit as part of its Indo-Asia-Pacific patrol.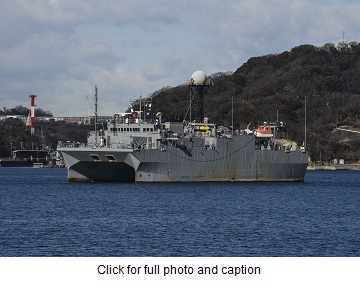 The visit strengthens the already positive alliance between the U.S. and Japan through the crew's interaction with the Japan Maritime Self-Defense Force. It also demonstrates the U.S. Navy's commitment to regional stability and maritime security in the U.S. 7th Fleet area of operations.
"The crew has worked tirelessly during this deployment," said Phillip Thrift, Able's master. "The visit gives the crew some well-deserved time off and an opportunity to explore the rich culture of Japan."
Able is the first ship in the U.S. Navy to bear the name and is the second of four Victorious-class ocean surveillance ships. Its primary purpose is to conduct anti-submarine warfare by deploying a Surveillance Towed-Array Sensor System (SURTASS) which provides passive acoustic mobile detection, tracking, and reporting of submarine contacts at a long range. Additionally, Able is one of four ocean surveillance ships capable of searching for submarines using Low Frequency Active Sonar (LFA). The data provided by SURTASS is analyzed aboard Able and then sent to Submarine Group 7 (CSG-7) in Yokosuka, Japan. CSG-7 then uses the information collected to make critical decisions regarding the placement of its assets.
Able is operated and maintained by civilian contractors for the Military Sealift Command. The SURTASS surveillance system is operated by an aboard military detachment from Naval Oceanographic Processing Facility Whidbey Island, Washington.
For more information, visit www.navy.mil, www.facebook.com/usnavy, or www.twitter.com/usnavy.
For more news from Commander, Submarine Group 7, visit http://www.navy.mil/local/csg7/ or http://www.csp.navy.mil/csg7/.
# # #