At the Washington Port of Longview, American farmers, port workers, millers, mariners, and state and federal policymakers stood together Aug. 15 to commemorate the significant humanitarian shipment of 28,000 metric tons of American-grown wheat on the SIU-crewed Liberty Glory (Liberty Maritime) as part of the U.S. Agency for International Development's (USAID) Food for Peace program. The shipment comes as Food for Peace is under intense pressure from lawmakers working to eliminate shipments of food produced by American farmers aimed at alleviating the worst hunger emergencies around the world.
SIU Vice President West Coast Nick Marrone and SIU Assistant Vice President Joe Vincenzo attended the event, as did rank-and-file Seafarers.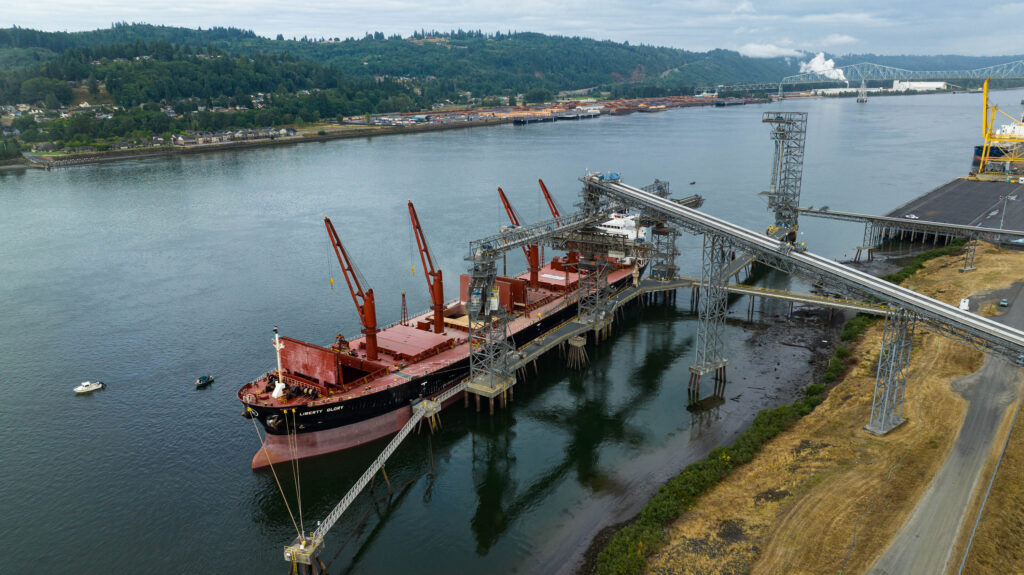 American-grown food has been the cornerstone of America's foreign aid policy since Food for Peace was launched in the 1950s with crops like corn, sorghum, rice and wheat. The shipments represent an "unbroken chain of humanity" that stretches from America's fertile fields to families facing an unprecedented crisis. During the last three years, the United States has donated more than one million tons of American-grown wheat per year through Food for Peace. Much of that wheat has gone to support hunger hotspots in the Middle East and East Africa, where food insecurity still persists.
"Food for Peace is one of the most successful humanitarian programs because of the enduring commitment of America's farmers, millers, port workers, longshoremen and merchant mariners to feeding the world," said William P. Campbell, vice president of operations, Liberty Maritime Corporation. "However, there are some out there who want to eliminate the contribution of America's farmers and mariners to Food for Peace or end the program entirely. World hunger is at its peak as conflict persists and the traditional breadbasket of Ukraine is disrupted. Against this backdrop, America must stand up and fight hunger and once again be the shining beacon of hope for those around the world. Food for peace is that hope."
"America's farmers feed the world and this shipment will feed one million people facing starvation for an entire year; focusing on families who need it most," said Washington Grain Commissioner Gary Bailey, a wheat grower in Whitman County. "Washington's wheat farmers are proud to have connected America's home-grown food to hungry families half a world away for 70 years and counting."
In remarks prepared for the ceremony, Marrone stated, "The Seafarers International Union proudly supports cargo preference and we strongly believe that the laws should be strengthened for the betterment of America's national, economic and homeland security."
According to the latest data from the World Bank, across the Middle East and North Africa, one in five people are severely food insecure, including eight million children.
Through Food for Peace, American farmers, millers, port workers, longshoremen and mariners sailing under the U.S. flag have played a critical role in the program to fight global food insecurity.
In conjunction with the Longview event, Congressional representatives and other stakeholders offered their support for Food for Peace's mission:
Congresswoman Cathy McMorris Rodgers (R-Washington) – "Eastern Washington's agricultural community has a rich history of feeding the world, especially those in need. Thanks to the Columbia-Snake River system, our wheat farmers are able to send their products to hungry nations around the world, preserving their hard-earned legacy and ensuring America continues to shine as a beacon of hope. Thank you to our farmers, industry stakeholders, and maritime partners who helped make this tremendous humanitarian effort possible."
Congresswoman Pramila Jayapal (D-Washington) – "The United States must continue to provide robust international aid to meet the scale of need in the fight against hunger. I am inspired by the partnership of the maritime labor, carriers, and agriculture sectors in Washington and across the country to make this momentous contribution to global food security."
Congressman Adam Smith (D-Washington) – "I commend partners throughout Washington State for their continued commitment to USAID's Food for Peace Program. Food for Peace plays an integral role in alleviating hunger throughout the world while also strengthening the United States' diplomatic efforts. Thank you to the many partners, including Washington State agricultural producers and union workers, who make these efforts possible."
Congresswoman Marilyn Strickland (D-Washington) – "Washington State has long been a leader in agricultural production and has put us in a position to create positive change. With eight billion dollars in agricultural exports last year and partnerships between public, private, trade groups, and labor, our state is well positioned to extend beyond our geographic boundaries and touch the lives of individuals and families facing hunger emergencies."
Jane Shey, Senior Policy Consultant, World Food Program USA – "Food security is national security. We must increase our collective efforts to access the funding and commodities needed to meet the challenge of a food-insecure world. Committed leadership on the part of the United States, from Capitol Hill to the docks where we stand today, is essential to securing a peaceful and prosperous future."
Dan McKisson, President, Washington Area District Council of the International Longshore and Warehouse Union – "American-grown commodities, like the soft, white wheat loaded on the U.S.-flagged vessel Liberty Glory here today, have saved lives all over the world. This is a tangible symbol of our nation's generosity, loading these cargos and sending them to those in need overseas, also provides much-needed living wage jobs for our union members and for their families."
Randy Suess, on behalf of the Washington Grain Commission and Washington Association of Wheat Growers – "Food aid not only benefits everyone around the world and American farmers, but it also involves everybody in the supply chain: the truckers, the warehousemen, the shippers and the longshoremen…. Right now, one U.S. farmer feeds 166 others across the country and around the world. I am proud to be part of this program, working to achieve long-lasting and sustainable food security for the world."
The SIU crew of the Liberty Glory included Bosun Shatina Wright, ABs Qaid Alnaawi, Guillermo Legra and Samuel Vera Davis, STOSs Jose Oliva Umanzor and Venancio Bonifacio Suazo, OS Sincere Williams, GUDEs Lacorie Ray, Nabil Said and Virgil Tudorache, Steward/Baker Isabel Sabio, Chief Cook Eliezer Estremera and SA Yawoub Shack.
###