The most recent Maritime Trades Department (MTD) Executive Board meeting proved historic, as longtime President Michael Sacco, Executive Secretary-Treasurer Daniel Duncan and Eastern Area Board Member Jim Given announced their respective retirements.
Following unanimous approval by the board, they were succeeded by (in the same order) David Heindel, Mark Clements and Chris Given. SIU Executive Vice President Augie Tellez, who also serves as an MTD board member, spoke in support of Heindel's nomination.
While the appointments provided a grand finale, the rest of the meetings – which took place Feb. 16-17 in Lake Buena Vista, Florida – also featured plenty of other riveting moments. They included remarks from (in chronological order) U.S. Maritime Administrator Ann Phillips; U.S. Export-Import Bank Board of Directors member Owen Herrnstadt; TOTE Services Chair and CEO Tim Nolan; U.S. Gen. Jacqueline Van Ovost, commanding officer of the U.S. Transportation Command (via video); Union Veterans Council Executive Director Will Attig; Darrell Connor on behalf of Great Lakes Dredge & Dock Senior Vice President Bill Hanson; AFL-CIO Secretary-Treasurer Fred Redmond; and International Transport Workers' Federation (ITF) General Secretary Steve Cotton.
MTD board members approved numerous statements mapping out the organization's strategies. Statement topics on the first day included safe workplaces, the Jones Act, the Export- Import Bank, hurricane relief, legislative wins for maritime, supporting our troops and veterans, and America's maritime highways and infrastructure. On the gathering's second day, the board approved statements covering wind energy, labor solidarity, recruiting and organizing, protecting the National Labor Relations Board, and cargo preference.
In his opening remarks, Sacco said that, as usual, "we've got a mix of good news and serious challenges to talk about. That's life, period, but it definitely applies to us in the maritime industry and the labor movement."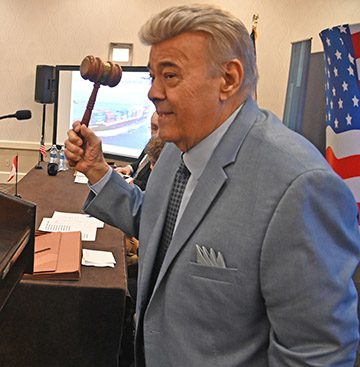 He continued, "Many of you saw the numbers from this year's government report on union membership in the United States. Collectively, we gained more than 200,000 members…. While it's a modest gain overall, it still beats a loss, and it really does give me hope for the future of organized labor."
Sacco said that current future jobs in the wind-energy sector also look promising.
"Wind energy is here, it's here to stay, and unions have been at the forefront of making sure workers have a seat at the table regarding these new jobs," he stated.
Turning toward politics, Sacco said, "Depending on your political views, you may see the results of last November's elections as positive or negative. From an MTD perspective, I'd say it was a mixed bag, but not because of anything to do with party affiliation. We lost some really good friends either to retirement or to the election results themselves, but we also won more than our share of the races. And as always, we didn't waste any time getting to work with the new Congress. That's something else that never changes."
He said manpower is among the largest challenges facing unions and businesses throughout the nation.
"You've probably seen the data about millions of unfilled jobs across the country," Sacco noted. "At some point that'll change, but for right now, employers – and unions – are feeling the strain."
The MTD, which recently unveiled a substantially updated website, is a constitutionally mandated department of the AFL-CIO. The department's network of 21 port maritime councils has given maritime workers a formidable grassroots presence in port and coastal cities across the nation. Representing a wide array of workers, the councils have given the department's 23 affiliates (including the SIU) a mechanism to pool their resources on a wide range of issues and projects. Those affiliates collectively represent more than five million members.
###