Thoroughly trained SIU members working aboard NY Waterway- operated ferries yet again answered the call, and helped rescue hundreds of passengers aboard a Staten Island Ferry (SIF) vessel which had caught fire during a recent holiday rush hour.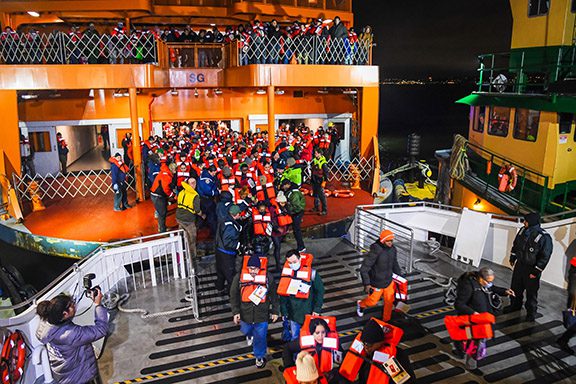 On Dec. 22, the SIF ferry Sandy Ground experienced a fire in the mechanical room which left the vessel inoperable and at anchor off the St. George Terminal dock in New York Harbor. The NYPD and FDNY responded to the incident by requesting aide from other ferries in the harbor, and the SIU crew of NY Waterway's Franklin Delano Roosevelt rushed to help the passengers in peril.
Making multiple trips to ensure safety, the smaller ferry helped rescue 558 passengers throughout the course of about 90 minutes. In total, 868 passengers were evacuated off the Sandy Ground, with five reported injuries among the passengers.
The crew of the Franklin Delano Roosevelt included Capt. Tom Beckedorff and Deckhands Elio Pineda, William Capko, Jonathan Lowman and Amer Abouzeid.
Beckedorff said, "I was just responding to a NYPD harbor unit's call for assistance. Credit for the transfer of passengers belongs with my crew members, the crews of the two tugs that enabled us to safely bow up to the SIF Sandy Ground – Capt. Chris Mitchel of the tug Mr. Jim was outstanding – and of course the captain and crew of the Sandy Ground, who not only were able to contain and extinguish the fire but also maintained an atmosphere of calmness amongst their passengers. It was a highly unusual situation for all involved, and it went very smoothly considering all the circumstances."
NY Waterway said on Twitter, "This evening, NY Waterway assisted with the evacuation of a Staten Island Ferry that experienced an engine room fire. NY Waterway's Franklin Delano Roosevelt ferry evacuated 558 passengers, who are now being brought to St. George on Staten Island…. We're grateful to the captain and crew of the FDR, and for all our partners in the harbor, who worked together to ensure all passengers on the disabled Staten Island Ferry got home safe tonight."
Meera Joshi, NYC Deputy Mayor for Operations, also expressed her appreciation for the efforts of the rescuers, saying, "Adding my gratitude to the crew and passengers, as well as NY Waterway for ensuring everyone is getting home safely to their families after this experience. We will learn what exactly transpired to ensure the continued safety of all SI Ferry riders."
###