Though he initially balked at sailing and had envisioned a different career, Bart Rogers says he truly found a home with the SIU.
"This ended up being the perfect place for me," states Rogers, who retired Nov. 30 following more than 42 years with the union and its affiliated school in Piney Point, Maryland. "It's been my privilege to be part of this. It really has."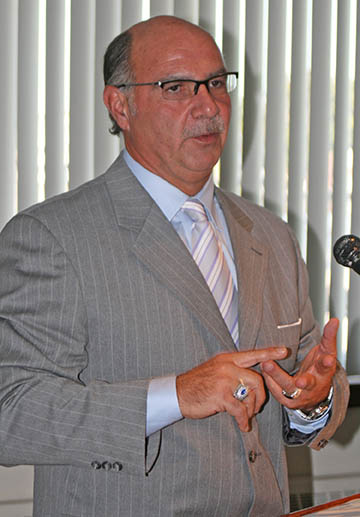 Rogers, 65, served both organizations in numerous capacities, most recently as the assistant vice president at the Paul Hall Center (PHC). At various times, his titles (official or otherwise) included manpower coordinator, dispatcher, recruiting coordinator, admissions director, athletic director, and president of an old local union that's affiliated with the SIU.
"Bart has been an integral component at the school for decades, doing everything and anything that needed to be done," notes PHC Vice President Tom Orzechowski. "Many of the things he's done have been behind the scenes or without fanfare, and he's always handled them in the best fashion, always been an asset to the school. He'll be missed."
SIU Executive Vice President Augie Tellez was among the first people in the union to meet Rogers.
"I remember Bart the wide-eyed young man as I dispatched him to his first two ships from the Brooklyn hall," Tellez recalls. "Since then, Bart has been such a positive force in every aspect of Piney Point life, whether as a mentor to the trainees/apprentices or as the union's manpower director. He is someone you can always count on. Our current manpower system is due in large part to his contributions and has been the paramount reason for our success in meeting our obligations to the industry. I wish him and (wife) Cindy and the family only the best as he enjoys his retirement."
SIU Secretary-Treasurer David Heindel describes Rogers as "a big brother to many apprentices and their predecessors, the trainees, for more than 40 years. Many of those individuals owe their careers to Bart's efforts – his steady guidance and support. While his presence will be missed, it is reassuring that his legacy will be picked up by others stepping into his shoes."
If someone in the late 1970s had described to Rogers how his career would unfold, he wouldn't have believed it. He had graduated from college but couldn't immediately find a job in his chosen field (education and coaching). A family member knew about the SIU and recommended shipping out as a stopgap measure.
Despite initial reluctance, Rogers went to the Brooklyn hiring hall and then secured his credentials.
"I met a young fellow named Augie Tellez," he remembers. "Augie (then a patrolman) put me on my first ship, a Puerto Rico Marine vessel. I sailed for a while and then was asked to start a physical education program in Piney Point.
"I remember my first day at the school (Sept. 3, 1980) like it was yesterday," Rogers continues. "I drove for what seemed like forever, and keep in mind you followed a printed map in those days. The next morning, I woke up to 350 trainees coming down the avenue with Ken Conklin" (trainee commandant and de facto founder of the program).
A few years later, then-SIU President Frank Drozak asked Rogers for ideas on creating a system to track shipping and registration.
"The current manpower operation was borne from that effort," Rogers says. "We had something very small at the school in 1984 – KC (Conklin) was keeping track of the LNG ships. But we brainstormed and started with an original mainframe, and that's how it began."
As his duties expanded, Rogers also achieved his original objective of coaching. He teamed up with other volunteers to, essentially, introduce lacrosse to the local area, both at public schools and via clinics. Fast-forward to 2022, and the sport has become a southern Maryland staple – while Rogers is in his twenty-fifth year coaching at Leonardtown High School, a regular contender for championships.
"There are similarities between coaching and working at the school," explains Rogers, whose sports passions also include supporting the NFL's New York Giants. "In both cases, you feel like you're making a difference in kids' lives. That's something I really enjoy. Plus, it keeps me feeling young and in shape."
Reflecting on his time with the SIU and the PHC, Rogers says it is collectively "the best thing I ever did. Everything I have in this world came from the SIU. I also learned more here than I did at any school anywhere. It's one of the most unique places I've been to, and I've been around." He credits SIU President Michael Sacco, Tellez, Drozak, Conklin and others not only for guidance but also for instilling enthusiasm that "makes it become a passion to work here and not just a job. I want the people who mentored me to know I did my very best; it was always my goal to represent them properly and do things the way they'd want them done."
Looking ahead, Rogers plans to travel with his wife but will still live in the area. He's confident that the PHC will continue advancing, and offers the following advice to those entering the maritime industry: "Stay motivated, be disciplined, have structure and know how to conform. Those are four keys to success in anything you do."
He says he'll miss "seeing our successes, kids coming to the office to get their sea project, seeing them come back (for upgrading). The other day, a member came in to say hello and brought a picture of us standing on a softball field. I hadn't seen him in 30 years. Those are things I'll miss, but if the SIU needs me for anything, I'm available to help."
###