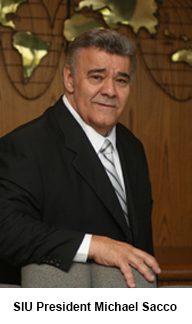 'See the Whole Wide World'
Around the world, the maritime industry battled a manpower shortage even before the COVID-19 pandemic. That challenge has only become more pronounced in the last couple of years, and it certainly extends into many other occupations across the globe.
Nevertheless, our union, along with our affiliated school and many of our contracted vessel operators have invested substantial resources to attract people either specifically to the SIU or at least to the broader U.S. Merchant Marine. I'm confident that, once they're here, newcomers will find lots of reasons to either stick around with us or move on to licensed positions elsewhere in the industry.
American maritime – and the SIU in particular – has much to offer. As one of our newest recertified bosuns recently put it, "While my friends back home were discovering the world wide web, I got to see the whole wide world: all seven continents, both while employed aboard ships and during my vacation time. I've earned good wages and benefits for me and my family, while funding my retirement plan."
I'd call that a powerful endorsement from someone with firsthand experience. And, there are so many additional stories and viewpoints just like that one. There's a reason why we've been around since 1938.
If you know any prospective Seafarers, by all means send them our way. Encourage them to visit a hiring hall and/or check out our website. This is still a profession in which you can go as far as you want to go, and our union offers excellent contracts with top-of-the-line benefits, not to mention flexibility and opportunities to see the world.
Importance of Political Action
While we've probably exhausted the topic of the Jones Act in this space in recent years, the most recent attacks against our country's freight cabotage law once again underscore why the SIU remains politically active. By having well-informed backers both in Congress and in the administration, we are able to help turn back these misguided attempts to weaken or eliminate a policy that has served the United States and its citizens for more than a century.
Sitting around and hoping someone else will deliver our message on Capitol Hill (and at every level of government, for that matter) never has been our approach and never will be. There's turnover in literally every election cycle, and that means we're constantly making introductions and explaining our value to legislators and to others who regulate American maritime.
These types of actions are vital to protecting your jobs, and that's why we don't take shortcuts. It's also why we support candidates who support maritime along with workers' rights, regardless of political party. Heck, it's why we relocated headquarters from New York to suburban D.C. 40 years ago. Our industry's fate is mainly decided in Washington, and we'll continue wearing a path between Camp Springs and the nation's capital for as long as that's the case.
Thank You
I'll close this month's message with heartfelt thanks to everyone who has stepped up for hurricane relief efforts in the aftermath of Fiona and Ian. It's difficult to even watch news footage of the destruction to people's homes, not to mention thinking about the loss of life. But I'm proud of our union, our members and our labor movement for immediately pulling together and helping however we can, wherever we can.
This is also nothing new for the SIU, and while it's a classic case of hoping we'll never need to do it again, we know better. There will be other storms. And the SIU will be there for our brothers and sisters, like always.
###