Following several pandemic-related delays, SIU-contracted Pasha Hawaii in late July took delivery of the MV George III, which the company described as "the first liquefied natural gas (LNG)-powered vessel to fuel on the West Coast and the first to serve Hawaii."
The 774-foot containership is the first of two new Ohana Class vessels to join Pasha Hawaii's fleet, serving the Hawaii/mainland trade lane as part of the Jones Act fleet. The second ship, the Janet Marie, is slated for delivery by the end of this year.
Texas-based Keppel AmFELS is responsible for the construction of both vessels.
Recertified Bosun Kissinfor Taylor, part of the first crew aboard the George III after delivery, said the ship made a good first impression.
"Things are going very well," Taylor stated. "The delivery was delayed for almost two years, so it's good to finally be aboard. The vessel itself reminds me of the new Matson ships. The only big difference is this one is LNG-powered. But we're all working hard, and I've sailed with most of the guys on here for years."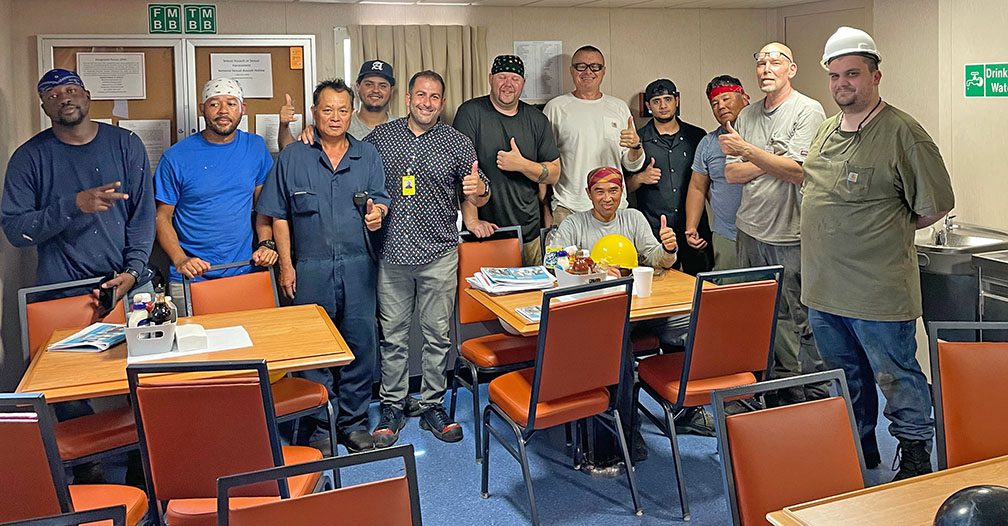 In announcing the delivery, Pasha Hawaii stated, "Operating fully on natural gas from day one, the new Jones Act vessel surpasses the International Maritime Organization (IMO) 2030 emission standards for ocean vessels, representing the most technologically advanced and environmentally friendly vessel to serve Hawaii. Energy efficiencies are also achieved with a state-of-the-art engine, an optimized hull form, and an underwater propulsion system with a high-efficiency rudder and propeller."
The Ohana Class vessels are named in honor of George Pasha III and Janet Marie, the late parents of The Pasha Group President and CEO George Pasha IV, signifying three generations of service to Hawaii.
"Today marks a moment in time that will be remembered by many of us, including my family and our incredible team members at Pasha Hawaii who worked tirelessly to bring MV George III to life," said George Pasha IV. "As we welcome the new MV George III to the Pasha Hawaii fleet, we stand incredibly proud of the perseverance and commitment of our partners at Keppel AmFELS, and the skilled men and women at the shipyard on this tremendous accomplishment. We look forward to beginning service to Hawaii in August and taking delivery of the Janet Marie later this year."
In addition to Taylor, SIU members who helped crew up the ship in July included ABs Gerardo Arroyo, Bobby Belches, David Connelly, Yassid Laboriel Lalin and Andrei Tretyak, QMEDs Benjamin Scott and Tousif Khan, Steward/Baker Bryan Nystrom, Chief Cook Hussein Hussein and SA Abdullah Alasfor.
The Jones Act, America's freight cabotage law, has protected U.S. national, economic and homeland security for more than a century. It requires that cargo moving between domestic ports is carried aboard vessels that are crewed, built, flagged and owned American.
This law always has enjoyed bipartisan political support in addition to receiving strong backing from top U.S. military leaders. Among other benefits, the Jones Act – which helps contribute billions of dollars each year to the national economy – helps maintain a pool of well-trained, reliable, U.S.-citizen mariners who would be available to sail aboard military support ships in times of need.
More than 90 countries around the world maintain some form of cabotage law.
###