Seafarers and officers from the Mearsk Peary recently received a United States Coast Guard (USCG) Certificate of Appreciation for their work in rescuing an otherwise doomed sailor in December 2021. U.S. Navy Capt. Ken Bridgewater presented the crew with the certificate while the ship was at anchor in Honolulu on July 8, in a ceremony also attended by SIU Port Agent Hazel Galbiso.
As part of a much larger rescue effort, Seafarers sailing aboard the Maersk Peary pulled a man from the Aegean Sea on Dec. 22. The SIU crew aboard the Peary, which was en route to deliver vital fuel and supplies to McMurdo Station in Antarctica, included: Bosun Damon Zschoche; ABs Marie Acosta, Roni Castillo, Joshua Gail, Edward Majesky and Derek Willis; QE3 Lateef Sanusi; QEP Rickey Yancey; GSTU Lakeeba Bazemore; Wiper Ali Laith; Recertified Steward Tony Spain; and Chief Cooks Osmar Ramos and Randy Hampton. The ship's officers are represented by the Seafarers-affiliated American Maritime Officers.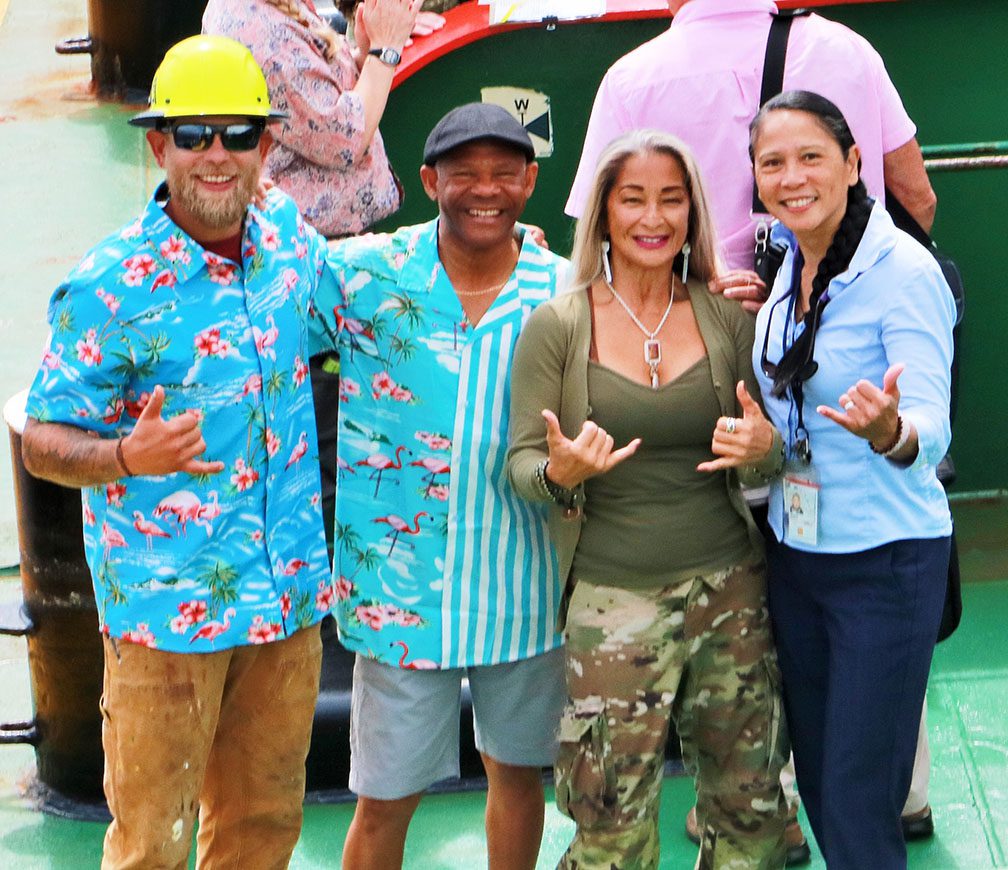 "It is a pleasure to present this award on behalf of the Coast Guard," said Bridgewater. "The efforts of the merchant mariners often go unnoticed, but Maersk Peary's participation in this multi-agency rescue mission is an example of this community's professionalism, dedication to duty and ability to answer the call to a fellow mariner in distress. This particular mission highlights their ability to support a wide variety of missions that comes their way. Bravo Zulu to the entire crew for an outstanding effort!"
The rescue saw the crew work as part of a larger operation, searching in a grid pattern for migrants adrift at sea following three separate accidents over the course of a weekend. They discovered a drowning man clinging to a boat fender, and pulled him aboard in the middle of the night. The crew then transferred the man, who was shivering but conscious, to the Greek Coast Guard and resumed their grid search. The Maersk Peary was then relieved of their search and rescue duties four hours later, and returned to their original course.
After the rescue, vessel master Capt. Everett Hatton said, "I am very fortunate for SIU to step up and provide a top-notch crew on very short time as we rushed the vessel from load port Greece just prior to the holidays. This current crew proved to be well qualified and trained when the alarms rang to turn to for a search and rescue during the dark of the night. Without a hesitation, when called to assist, all were there and added helping hands. For the Maersk Peary crew, it was an outstanding effort for everyone to be involved in this recovery."
In that rescue operation, at least 30 migrants died in three separate incidents in the same area, with more than 160 rescued. The combined rescue efforts saw at least four Greek Coast Guard vessels, a Greek naval frigate, eight merchant ships, three private vessels, three military helicopters and a military transport plane all pitch in to save as many lives as possible.
###