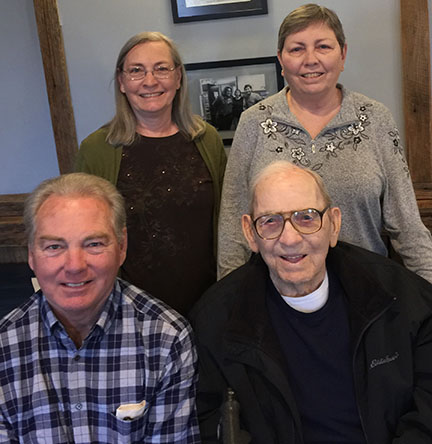 At age 96, former Seafarer Lawrence Abrams maintains his sense of humor.
Asked recently about his health, he replies, "It's still here. Some of it."
Abrams sailed with the SIU during World War II before moving to a shoreside career in July 1946. But the U.S. Merchant Marine recently recaptured his attention when war-era mariners collectively received the Congressional Gold Medal (in May 2022).
The televised recognition in the U.S. Capitol made national news and gave Abrams a chance to reminisce about his sailing days, which were anything but unremarkable. During the war, the Alabama native sailed to Normandy for D-Day, endured the infamous Murmansk run, helped take 50 Germans prisoner during one voyage, and survived his ship being damaged by a torpedo. Those weren't his only close calls or noteworthy experiences. After visiting a family member in New York in 1946, he got lost in the subway system and missed his flight. The plane crashed near Richmond, Virginia, and all 27 people aboard perished. Many of them were merchant mariners on the way to southern ports. (Abrams' family mistakenly had been notified that he died.)
Two years earlier, a last-minute, pre-voyage switch from one vessel (the Liberty ship Paul Hamilton) to another kept Abrams from certain doom. The Hamilton was sunk by Germans; none of the nearly 600 people aboard survived.
He also has told his family that one of his vessels was sunk by a torpedo. The ship was headed to England; many of the crew members were rescued by a Canadian vessel and returned to New York.
Not all of his wartime encounters were quite as dramatic. For instance, he spent a night in jail in Chile in 1945, after making acquaintance with a lady who turned out to be local police chief's girlfriend.
Additionally, in 1943, he and a number of shipmates were allowed to play baseball with locals while docked in Havana, Cuba. The Cubans would leave their equipment at each position on the field, since the mariners didn't have any such gear on the ship.
Humble Beginnings
Abrams, one of nine children, felt plenty of patriotism when he signed up for the merchant marine in 1943, at age 17. But he candidly recalls another reason for choosing that path in addition to backing the war effort.
"My mother and father were real poor. They were sharecroppers," he says. "I had been working in a shipyard in Mobile, but it didn't pay well. So, I joined the union and got on a ship."
He knew about the SIU because of his brother Abner, who sailed with the union for decades, mostly as an electrician. (Abner passed away in 2008, at age 86.)
Lawrence Abrams first shipped out in May 1943, as an ordinary seaman aboard the Liberty ship Theodore Foster, which sailed from Mobile to Scotland to New York. He quickly concluded that he'd stick with the industry – but not as a member of the deck department.
"It didn't take me long to find out it's cold out there on that deck," he remembers. "I was the lookout. I (later) switched to the engine department because if I was going to die, I wanted to die warm."
He'd suffer no such fate despite the risks endured by the U.S. Merchant Marine of World War II – dangers that led to them being recognized as veterans in 1988, and to the Congressional Gold Medal presentation. Official estimates vary, but those mariners suffered a casualty rate that either exceeded any of the armed forces or was second to that of the Marine Corps. They often sailed with minimal or no protection. They were an all-volunteer service. More than 8,000 of them died at sea (including more than 1,200 SIU members); another 11,000 were wounded.
Abrams nevertheless found it a decent fit.
"The union was good to me," he says. "My seniority wasn't great, but I made it. I'd send money home to my mother…. I sailed to South America, France, Scotland and many other countries." One of those other nations was Russia. In early 1945, the Abrams brothers sailed together on the Grace Abbott (yet another Liberty ship) for a five-month voyage that included a stop in Murmansk.
Notorious for its threatening conditions, the Murmansk Run partly consisted of a dangerous Arctic Ocean passage from Iceland or Scotland to northern Russia. U.S. vessels joined those convoys beginning in 1942, sending a total of approximately 350 ships during a three-plus-year stretch. Nearly 100 of those vessels were sunk by Germans, and thousands of Americans aboard them lost their lives.
Today, Lawrence Abrams mainly recalls two things about his trip to Murmansk: "That's the coldest place I have ever been, and the people of Russia were very good to me. They had good people there at that time."
Perhaps it speaks to his overall adventures that another component of the voyage is nearly an afterthought: On the return trip, the ship was hit by a torpedo and sustained a hole in its bow. The damaged part of the vessel was quickly closed off to avoid water intake. Abrams suffered burns on his shoulder from being slammed against hot pipes in the engine room. His larger complaint, though, is that the vessel ran so low on stores, they only had beans on the menu until reaching Glasgow for repairs. (Dried beans remain a forbidden item on the Abrams menu today.)
Then, as the ship headed back to the U.S., it encountered a U-boat that had surfaced due to a lack of fuel. The U.S.-flag vessel, aided by others, took control of the foreign crew while the submarine was towed to England.
Half a year earlier, he sailed to Normandy in support of the D-Day invasion. Abrams and his fellow mariners took a bus to Panama City to join the Waterman vessel SS DeSoto, which initially sailed to Brooklyn to join a convoy. From there, they sailed to Cairo for a partial off-load, then headed to France.
At Normandy, the crew waited at sea until the initial attack ended, then docked to unload cargo. Thinking it was safe, some of them then went ashore.
"We were stupid," says Abrams. "The Germans were still fighting our soldiers. A lady in a Red Cross jeep came by and picked us up in a hurry so we could get back to the ship. When our last crane unloaded, the captain said to get the ship out fast. I worked in the boiler room…. He said, 'Full speed ahead!" and that's what we did."
Answering a Different Call
When Abrams signed off the SS Anson Jones in May 1946, he didn't know that his maritime career almost had concluded. He took a job as a lineman with Southern Bell Telephone and Telegraph Company that summer and then met his future wife, Hestina Gibson. They would marry just three weeks after meeting, and remained together for 63 years, until her passing in 2009.
Abrams was a telephone union member when a strike led him back to sea for one last trip, aboard the SS Oliver Wendell Holmes.
"I made more money on that one voyage (which lasted a little less than two months) than I did for a whole year with the phone company," he remembers.
Nevertheless, when the strike ended, he returned ashore and stayed with the phone company for 43 years. He spent most of that time as a supervisor and had to frequently relocate, because his work focused on converting "central offices" to the newest technology.
These days, Abrams remains an avid sports fan and enjoys spending time with family members. An Ardmore, Tennessee resident, he's partial to the University of Alabama football team, but when it comes to sports, "I watch all of them."
As for the recent (many would say long-overdue) presentation of the Congressional Gold Medal, Abrams is matter-of-fact.
"Quite a few of our ships were sunk during the war," he says. "The recognition is well deserved."
###