The new SIU Standard Freightship and Tanker Agreements are well on their way to ratification, following robust voting throughout July.
The five-year contracts boost wages, maintain benefits and all SIU jobs, add a holiday, and help ensure shipboard internet access for every Seafarer, among other highlights. The agreements also increase pension benefits for many of the more experienced members. Seafarers have voted on the contracts during monthly membership meetings, special meetings at the hiring halls, and aboard ships.
Voting continued as this edition of the LOG went to press, but, based on tallies from dozens of Seafarers-crewed vessels and from the aforementioned meetings at the halls, the contracts clearly were headed for ratification. Nearly all of the votes were in favor of the agreements, which take effect retroactively to July 1 of this year and run through June 2027.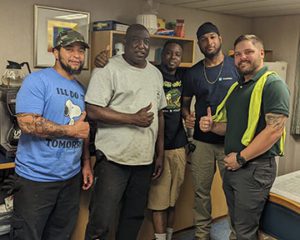 "I think it's a great contract for us and our families, and it's going to help us a lot," said Recertified Steward Lionel Packnett. "I thank our union leaders for their efforts and support." Chief Cook Luke Vandegrift stated, "I like the pension improvement, and of course the wage increases. More money is a good thing. I plan on doing this for a long time."
Bosun Joe Bowen said, "These are great contracts and I appreciate all the momentum we have going for us. The officials are really listening to the members and fighting for us."
During the July membership meeting in Piney Point, Maryland, SIU President Michael Sacco said, "This is one of the best contracts we've negotiated in a long time. Input from the membership was very important, and experienced leadership helped."
SIU Executive Vice President Augie Tellez and SIU Vice President Contracts George Tricker negotiated on behalf of the union, beginning in December 2021 and wrapping up in late June. The sessions took place in Florida, New York and Maryland and online, culminating at the union's headquarters building in Camp Springs. (For these negotiations, the vessel operators work together as members of the American Maritime Association, abbreviated as AMA.)
In his monthly membership report, Tricker said that the union wholeheartedly endorses ratification.
"As always, the union relied heavily on input from rank-and-file members when approaching negotiations," he noted. "The final agreements clearly reflect that input, which primarily was received through direct correspondence and shipboard meeting minutes.
"These bargaining sessions were more difficult than most," he added. "They took place against a backdrop of the COVID-19 pandemic and a manpower shortage that has affected almost every industry in the nation. Nevertheless, negotiations resulted in agreements that meet our stated objectives of maintaining benefits, boosting wages, continuing job security, and committing to shipboard internet access for all SIU crew members."
He also included the following contract highlights, among others:
Wage increases for Group 1 ratings are five percent in the first year, followed by four percent, four percent, three percent and three percent (for a total of 19 percent). For Group 2, the yearly increases are eight percent, six percent, four percent, three percent and three percent (for a total of 24 percent). For Group 3, the yearly increases are a freeze in the first year, one percent, two percent, three percent and three percent (for a total of nine percent). Tricker mentioned that the differences in the first few years are "being done largely to narrow some of the separation in total wages that has occurred over the years between the various higher ratings. It's also being done to encourage members to upgrade."
Effective June 19, 2023, Juneteenth will be added to the list of contractual holidays.
Members will have the opportunity to qualify for pension benefits sooner and to increase their pension amount. Previously, a member needed 3,000 days of seatime in order to get credit for vacation days and earnings for pension eligibility. That threshold for enhanced benefits is being reduced by one-third, to 2,000 days. This is for wage-related benefits.
In order to remain competitive while protecting the future stability of the contract during extreme negative economic downturns, the parties have agreed to amend the COLA escalation from 6% to 10% effective July 1, 2023. Historically, SIU agreements have almost always outpaced the COLA.
In order to help meet the union's manpower obligations, a seaman who receives job assignments pursuant to Rule 2.C.(5.) hereof and subsequently rejects or quits the same after 48 hours shall forfeit his shipping registration card for the next 60 days and shall only be able to secure a new shipping registration card after that time. The company for which the seaman receives a job assignment may waive this 60-day forfeiture and allow a seaman to accept a position with their company during this 60-day period.
In order to protect the seniority, benefits and pay of Seafarers who serve in the military, and consistent with the Uniform Services Employment and Reemployment Act (USERRA), the shipping rules are being thusly modified. In order to qualify as an eligible service member under the Shipping Rules, the seaman must meet all the eligibility requirements of USERRA. Generally, the cumulative length of military service cannot exceed five years. Seafarers must register for employment within 120 days following their separation from service.
All SIU crew members will have bandwidth access to the internet, and all crew will have the same personal internet access. Such access will allow mariners to, at a minimum, perform the following actions: send and receive email and photos (within the company's data/file size limitations); conduct banking transactions; pay bills online; download documents (within company's data / file size limitations). Due to bandwidth constrictions, streaming may be limited. All crew are required to follow all company internet polices.
Tricker's report also mentioned, "Due to different trade routes, types of ships and equipment, not all companies will meet the internet connectivity requirement in the same manner. In fact, some ships in the same company might meet the requirement differently."
However, the commitment to provide shipboard connectivity is solid, and affordability shall not be an impediment to such access.
###