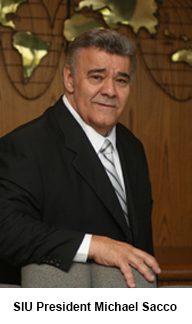 Cargo Preference Laws Help USA
Recent attacks against our nation's cargo preference laws seem familiar in that they're apparently designed to capitalize on a crisis.
In this case, a pair of Senate resolutions targeting the "ship American" components of cargo preference sprung up in response to Russia's invasion of Ukraine.
Cargo preference is sometimes overlooked or misunderstood, but these laws are crucial for U.S. national, economic and homeland security. According to the U.S. Department of Transportation, cargo preference "is the general term used to describe U.S. laws, regulations and policies that require the use of U.S.-flag vessels in the movement of cargo that is owned, procured, furnished, or financed by the U.S. Government. It also includes cargo that is being shipped under an agreement of the U.S. Government, or as part of a Government program."
If you remember nothing else about cargo preference, please let it be the following: The premium for using U.S.-flag ships accounts for less than one percent of program costs, according to our government's own data.
Nevertheless, the completely unnecessary resolutions call for waiving "ship American" rules and diverting cargo to foreign carriers for three years. This would apply not only to cargoes destined for Ukraine, and that's despite the fact that the law already permits the use of foreign- flag ships if U.S.-flag vessels aren't available at "fair and reasonable" rates.
Preference cargoes typically include military items, food aid, and shipments generated by the U.S. Export-Import Bank. There are corresponding percentage requirements that specify how much of the cargo must be moved on American bottoms, ranging anywhere from 50 to 100 percent.
Cargo amounts themselves vary from year to year. For example, according to the Congressional Research Service, U.S. international foodassistance outlays fluctuated from Fiscal Years 2016 to 2020 based in part on demands that changed due to conflicts in Syria, South Sudan, Somalia, and Ethiopia. In the fiscal year beginning October 1, 2020 and ending September 30, 2021, U.S.-flag ships delivered approximately 650,000 metric tons of food-aid cargoes around the globe.
One thing that doesn't change is the rock-solid rationale for maintaining these laws. Again, we turn to the DOT for the following excerpt about why cargo preference is necessary: "Just as many other seafaring nations have learned, history has taught us that Cargo Preference … is necessary for our national defense and a key driver of domestic and foreign commerce. This requires a U.S.-flag commercial merchant marine that can be called upon in times of war or national emergencies. Therefore, Congress has determined that the United States have a merchant marine sufficient to carry the waterborne domestic commerce and a substantial part of the waterborne export and import foreign commerce of the United States; capable of serving as a naval and military auxiliary in time of war or national emergency; owned and operated as vessels of the United States by citizens of the United States; composed of the best-equipped, safest, and most suitable types of vessels constructed in the United States and manned with a trained and efficient citizen personnel; and supplemented by efficient facilities for building and repairing vessels."
While we've got a long way to go to meet the goal of having American- flag ships carry "a substantial part" of our exports and imports, the SIU wholeheartedly agrees with the above-stated rationale and goals. Moreover, cargo preference laws have helped us answer the bell during all the recent activations – a response that is endangered by efforts to weaken those statutes.
Cargo-preference laws are good for America, good for the U.S. maritime industry – and good for the foreign citizens who benefit from many of the cargoes themselves. I thank the Biden administration for supporting these laws, which should be maintained and strengthened.
###