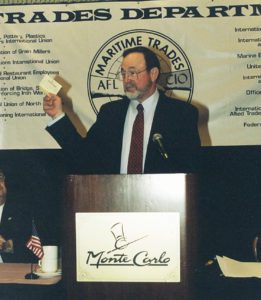 Alaska and the U.S. maritime industry lost a unique advocate March 18 when U.S. Rep. Don Young (R-Alaska) died at age 88.
"It's with heavy hearts and deep sadness that we announce Congressman Don Young, the Dean of the House and revered champion for Alaska, passed away today while traveling home to Alaska to be with the state and people that he loved. His beloved wife Anne was by his side," said a statement from his spokesperson, Zach Brown.
Young was an unwavering backer of the U.S. Merchant Marine. He was the only member of Congress who was a licensed merchant mariner, from his days as a tugboat captain prior to becoming an elected official. He also spearheaded a direct connection between Alaska citizens and the apprentice program at the SIU-affiliated school in Piney Point, Maryland.
President Joe Biden stated, "There is no doubt that few legislators have left a greater mark on their state. Don's legacy lives on in the infrastructure projects he delighted in steering across Alaska; in the opportunities he advanced for his constituents; in the enhanced protections for Native tribes he championed. His legacy will continue in the America he loved."
"I had many meetings over the years with Don Young," recalled SIU President Michael Sacco. "He truly was one of a kind. You always knew where you stood with him. And he always stood with us."
Young was born on June 9, 1933, in Meridian, California. He earned a bachelor's degree in teaching at Chico State College in 1958. Young moved to Alaska in 1959, the same year Alaska became a state. After becoming mayor of Fort Yukon in 1964, he held various state-level offices until he was elected to the U.S. House in 1973. He remained U.S. Representative for nearly 50 years, and was the longest-serving current member of Congress at the time of his death.
Young spoke at the Executive Board meetings of the SIU-affiliated Maritime Trades Department, AFL-CIO in both 1998 and 2003. He contributed his voice and presence in support of many key maritime programs and laws, such as the recently enacted Tanker Security Program, the Maritime Security Program, The Merchant Mariners of World War II Congressional Gold Medal Act, and the Jones Act.
"As a mariner myself, I recognize the crucial role the maritime industry plays in delivering goods to communities across the globe," said Young in 2014. "I am a strong supporter of the Jones Act, which I believe is necessary to maintaining a viable U.S. Merchant Marine fleet that keeps Alaskan communities fueled and supplied even in some of the world's most challenging conditions. Alaska's maritime industry is not only critical to our state's economy, it is also an important part of our state's identity."
Paul Doell, president of the Seafarers-affiliated American Maritime Officers, said, "Don Young was a tough, blunt, reliable advocate of the U.S. merchant fleet and American merchant mariners in all trades, and he held close ties to AMO throughout his long service in the U.S. House of Representatives. Our union always had an open door to his office, and I was privileged to have been among AMO staff members to discuss maritime issues with him, reveling in his earthy perspective."
"Everybody knows Don Young," Young himself said in a 2016 interview. "They may not like Don Young; they may love Don Young. But they all know Don Young."
###