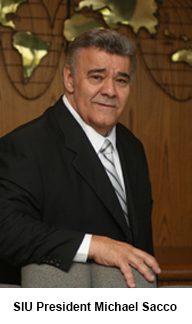 Ready to Deliver
Russia's invasion of Ukraine remains the dominant story worldwide, and it definitely affects not just the maritime industry from a business standpoint but also, more importantly, the people who work in it. Through our affiliation with the International Transport Workers' Federation, the SIU is doing whatever we can to ensure the wellbeing of Ukrainian civilian mariners – and Russian civilian mariners, too.
We also stand ready to mobilize if needed, as America's fourth arm of defense. Understandably, we're cautious in what is reported at certain times. Suffice it to say, we've always delivered and we always will.
If the global pandemic caused many of us to view our lives at least a little differently and more appreciatively, the Russian invasion has done so in a most appalling way. The SIU joins with the AFL-CIO in condemning the violent invasion. We stand in solidarity with the workers and their families who are impacted by the devastation, and offer our condolences for lives that have been lost.
We also join the global labor movement and our other allies in calling for an immediate end to Vladimir Putin's military aggression, and we support extensive economic sanctions imposed by the United States and the European Union, particularly those focused on Putin and his protectors. Ukrainian unions have struggled for decades to guarantee the internationally recognized right to organize and bargain collectively. Unions have courageously fought corruption that is widespread in the Ukrainian economy. All these brave efforts by Ukraine's unions are now threatened by the Russian military invasion, which is destroying the basic democratic rights of freedom of association, assembly and speech that are necessary for all effective trade union action.
The Russian government's invasion of Ukraine flagrantly violates international law and undermines the right of Ukraine and of all nations to self-determination free from the threat of violence. The consequences of the attack on Ukraine are vast – tens of thousands of lives may be lost, while millions of people already have been displaced. Countries will need to house, feed and support the many refugees fleeing the violence. Putin's war jeopardizes international peace and global economic recovery. Workers and their families are still struggling with the COVID-19 pandemic, and can ill afford the higher oil and food prices and further disruption to the supply chains this war is causing.
The SIU will do everything within our power to support our brothers and sisters in Ukraine.
Wins for Maritime
As reported elsewhere in this edition, the newly passed government spending bill contained several important victories for the U.S. maritime industry. These wins don't happen without a sustained effort to elect and educate pro-maritime legislators and pro-maritime administrations. That is why the SIU remains politically active and why we ask our rank-and-file members to support SPAD, the union's voluntary political action fund.
Funding for the Maritime Security Program, Tanker Security Program, and Cable Security Fleet is a collective dose of great news not just for the SIU but for the entire country. These programs are important to U.S. national, economic and homeland security. I applaud the efforts and votes of everyone who supports them.
Jones Act
Whenever I believe that Jones Act critics have hit a new low, they slither even lower. That's been the case recently when a few absolutely nonsensical articles were posted with the claims that America's freight cabotage law somehow is driving up gasoline prices. Those preposterous pundits also suggest that waiving the Jones Act would be in order.
Let's get a couple of things crystal clear. There is plenty of U.S.-flag vessel capacity to handle any voyages transporting oil within the United States. And – here's the real news – a waiver of the Jones Act for gasoline would only benefit oil traders.
The Jones Act has protected our nation for more than a century and it remains one of the soundest policies on the books.
###