When John Natoli first sailed with the SIU – in 1964, as a messman aboard Waterman's City of Alma – he probably couldn't have imagined he'd continue his career with the union for nearly six decades.
Natoli sailed in both the deck and steward departments, on ships operated by Rye Marine, Intercontinental Bulk Corp., Sea- Land, Saphire Steamship Lines, Alcoa Steamship, and Marine Carriers Corps. He came ashore in 1971 and started a long run working on the shore gang in Elizabeth, New Jersey. From 2011 to 2021, he served as chief bosun on that shore gang. Following a brief illness, Natoli passed away Jan. 25 in a Florida hospital. He was 79.
"John was unique," said SIU Executive Vice President Augie Tellez, a close and longtime friend. "He was a Brooklyn street kid that got his slice of the American Dream because of the SIU. He never forgot that, and it made him a staunch SIU man who always looked out for the little guy." Tellez added, "John was a true and loyal friend. If he was your friend, he always had your back. To me, he was family, and I'll miss him terribly every day."
SIU Vice President Joseph Soresi knew Natoli "my entire life," and worked for him on the shore gang in the early 1990s.
"I have so many great memories of John, they'd be too long to share," Soresi said. "He was a hard worker but he also had a great sense of humor and could make the most boring situation seem fun. He cared deeply about the union and about his fellow members, and he definitely will be missed."
SIU pensioner John Cain, who worked for many years as a lead bosun, commended Natoli for his effectiveness on the job.
"He was good to me and good for the shore gang," Cain stated. "I knew him since 1984, when I came ashore from the ships. His word was good and he always looked out for the members. He knew how to handle the company and how to get along with the other people on the shore gang. John really was an icon in that job. He was also a good family man; he would always talk about his family."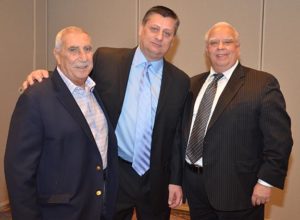 Longtime labor relations official Tony Naccarato said he considered Natoli more than a friend. "He was my brother," Naccarato said. "His tragic, untimely passing is a loss to the entire industry and to all who loved him. John was a family man, and a committed union worker who was loved and respected by all his peers for his many years of service."
He added, "John also loved to enjoy himself, with his family and friends, during his leisure time. He had a terrific sense of humor, and his detailed, enthusiastic stories always lifted your spirits when you spoke to him. He loved good food and cooking. I remember him calling my wife, Mary, more than once to get a recipe for Puerto Rican steak and onions. Getting it 'right' was very important to him."
Naccarato said he and Natoli spoke at the beginning of the year and made plans for a family get-together.
"He was telling me about how much he loved his condo and that he would help me find a rental at his condominium next year," Naccarato recalled. "He was very excited that we would spend time together."
He concluded, "The best nights were us celebrating Christmas at Tavern on the Green in Central Park, and then taking a horse and buggy ride. It was an annual event with our families that we looked forward to all year long. A small piece of trivia: John's mother's maiden name was Naccarato, although we were not related. John will always be remembered by everyone that knew him, especially by those who were privileged to get to know him well."
A graveside service took place Feb. 2 at Riverside Memorial Park in Tequesta, Florida.
###