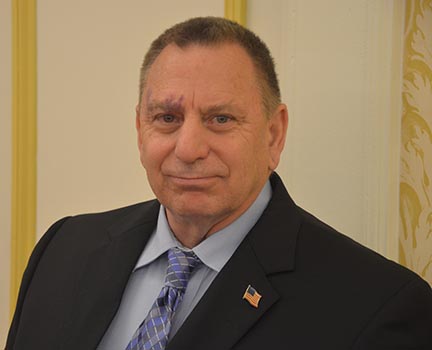 Longtime SIU Port Agent Jeff Turkus summarized his career with the union in a short but appreciative sentence: "It's been a long run and it's been a great run."
Turkus, most recently the union's port agent in Wilmington, California (since 2008), retired at the end of January. He capped a career that began in 1978 and included many years of sailing (deck department) and a five-year stint as the union's port agent in Guam, along with work at the Wilmington hall.
SIU Vice President West Coast Nick Marrone stated, "It has been a real pleasure to work with Jeff for nearly 20 years. Jeff has remained steadfast in his commitment to represent this membership, from his days sailing as bosun and then carrying out port agent duties in Guam and Wilmington. Jeff was a seafarer through and through, from his Navy days and then into the U.S. Merchant Marine."
Marrone added, "Jeff was very sincere when representing his fellow mariners and always remembered his origins. He carried himself as a working man's man and that is what made him popular with the membership he served. I wish Jeff a very enjoyable retirement."
Gerret Jarman, Turkus' successor as Wilmington port agent, said, "Jeff has been a great mentor. He shared a lot of useful information and knowledge. He knows the area and has run this hall really well for a long time. I appreciate his help and wish him all the best."
Though he ended up spending much of his adult life in the maritime industry, Turkus almost chose a different path. He was an accomplished high school baseball player – good enough to earn a scholarship offer from Arizona State. The speedy, strong-armed center fielder strongly considered accepting it, but instead joined the Navy, where he served from 1973-77.
After receiving an honorable discharge, he unwound for a while – and then, by chance, he learned about the SIU in 1978.
"I was in Class 250B in Piney Point (Maryland) a few months later," Turkus recalled. "I had a great time there and then shipped out."
While the work itself agreed with him, Turkus found that it wasn't always easy to land a job. "Particularly in the early to mid-1980s, it was difficult to ship," he said. "All the A-seniority guys were grabbing the jobs. I took a break for a while and became a plumber, but got antsy and came back in 1990 and went back out to sea."
He continued sailing for a dozen years, then accepted an opportunity to work as a patrolman in Wilmington. Approximately a year later, he became the port agent in Guam.
The relocation provided an unanticipated benefit: Turkus met his future wife during his Guam years. They married in 2008, and have a nine-year-old daughter.
Reflecting on his work history, Turkus candidly said he occasionally second-guesses passing up the baseball scholarship – but he considers his time with the union, both at sea and ashore, as completely fulfilling. He is equally open about growing up poor, which he said made him value the opportunities he found with the SIU.
"I want to make sure that the union knows I appreciate them giving me the ability to have a career, raise a family, buy a house. I appreciate the SIU 100 percent and always will. The SIU benefits are awesome," Turkus said.
Asked what he enjoyed most about sailing, he replied, "Just the camaraderie back then. I mostly worked tankers, and enjoyed the travel. I spent a lot of time in Alaska but also saw Korea and Japan. Plus, the kind of money we were making – especially having just gotten out of the Navy – made for a lot of fun."
Regarding his time as a port agent, Turkus said he liked "fixing things, helping our members and making life a lot easier for them. I was one of them, so we communicated well. And regardless of the task, my father always told me to do the job to the best of your ability. If you don't like it, keep your mouth shut and go do something else. I very much enjoyed it and that's why I stuck around."
Nevertheless, Turkus said that, at age 67, he's ready to "relax, enjoy time with my family and get back in shape again." (He had shoulder surgery that has curbed his workouts.)
A California native who resides in Los Alamitos, he also plans to work with segments of the Veterans Administration to help with suicide prevention and other issues.
"It feels like the right time," he concluded.
###