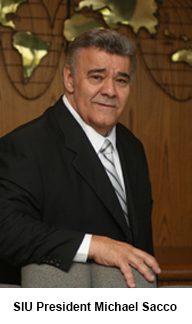 Despite a congressional setback in late January, the AFL-CIO and other proponents of voting-rights legislation will continue the fight.
As you may know, our efforts are focused on two bills: the John Lewis Voting Rights Advancement Act, which would reinstate federal power to review some state voting laws in order to avoid discrimination, and the Freedom to Vote Act, a wider-ranging piece of legislation that aims to establish national guidelines for voting by mail, early voting and other segments of the electoral process. I believe that the Freedom to Vote Act and the John Lewis Voting Rights Advancement Act would protect the right of every American to cast our vote and have that vote counted. Collectively, the bills are an appropriate federal response to the attacks on voting rights happening in state legislatures all across the country. "Advancing voting rights is how we defend America against those who want to tear workers apart," stated AFL-CIO President Liz Shuler. "Mobilizing on voting rights is also how we can take on the filibuster, which has been used for generations to block progress for workers."
The federation has noted dozens of states in recent years have modified their voting laws to make the process of casting a ballot more difficult or to replace nonpartisan election officials with those professing support for only one side.
Unfortunately, any action on two bills has been stalled by the threat of a filibuster, which under current Senate rules calls for 60 senators to declare they are willing to allow either measure to simply be debated.
There is nothing more fundamental in a democracy than the right to vote, and that's why we'll continue working with the federation and other allies to defeat voter suppression tactics and secure voting rights for working people nationwide.
Put simply, voting is a fundamental right. I encourage Seafarers to be involved, to know the issues and to meet the candidates. This union doesn't care what party they belong to. We just ask them to stand up for the workers and their families who elected them.
Annual BLS Report
Around press time, the U.S. Bureau of Labor Statistics (BLS) issued its annual report on union membership. It showed a decline in 2021 to the same rate as in 2019, which was 10.3 percent, and an overall total membership of 14 million. In 2020, membership rates had increased, but that was mostly because union jobs proved more secure than nonunion ones during that stretch of the pandemic.
One stat that jumped out at me from the report: On average, union members earn an additional $10,000 per year compared to unrepresented workers. They also typically enjoy better benefits. While it isn't immediately reflected by the raw data, I don't think there's any question the past year saw remarkable union momentum – high-profile campaigns at flagship American employers, major moves in new industries, and widespread strikes as workers stood up for a fair deal and a better life.
The substantial level of union activity in 2021 demonstrates that workers want and value unions. The fact that unionization nevertheless declined is a glaring testament to how easy it is for employers who oppose unions to exploit our weak and outdated labor laws to thwart workers' attempts at organizing, and how broken U.S. labor law really is. It is urgent that Congress pass the Protecting the Right to Organize (PRO) Act and the Public Service Freedom to Negotiate Act.
In some ways, the 2021 union numbers are a wakeup call. The Biden administration and Congress must institute policies (such as the PRO Act and the Public Service Freedom to Negotiate Act) that promote the right to union representation and collective bargaining as we rebuild our economy.
###