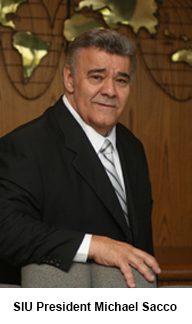 The American maritime industry is taking appropriate steps to help ensure that our workplaces are free from sexual assault and sexual harassment (SASH). I'm sure many readers know that SASH has been a primary topic since September, but regardless of your individual level of awareness, I encourage you to read the related articles in this issue of the LOG. Keep an eye on our website for updates, too, in between publications.
Although the recent allegations by former Kings Point students do not involve SIU members, we are not sitting back and brushing aside any part of our shared responsibility to protect all of our shipmates. We are working with other unions, government officials, schools and businesses to improve shipboard life for everyone.
It's an ongoing process and we take it seriously. I believe the initial, industry-wide response has been useful, and that this collective effort truly will lead to improvements. If you've spent any time in the SIU, you've probably heard me say that we're more like a family than a union. In that spirit, continue treating your fellow members like sisters and brothers. Look out for one another, maintain your professionalism, and if you think something is wrong, use the proper channels to make it known.
The American maritime industry is vital to U.S. national, economic and homeland security. We've got our share of problems, like any other industry, but I believe that the overwhelming majority of U.S. Merchant Mariners are good people who work hard to make a living. We'll continue teaming up to protect our crews and to correct any shortcomings.
Path to Success
Our affiliated school in Piney Point, Maryland, remains a huge key to our success. And, the latest improvements there are nothing short of incredible.
The school's new Media Center – utilized for various classes – is absolutely cutting-edge. Student reaction to the massive upgrades has been quite positive, and the instructors also are embracing the latest technology. Be sure to check out our coverage elsewhere in this edition. One reason the school is so important is that it enables the SIU to provide well-qualified mariners to our contracted vessel operators. But, to the individual members, Piney Point is critical because it signifies opportunity. Opportunity to upgrade. Opportunity to earn more money. Opportunity to make the most of this unique career.
You can go as far as you want in this industry, from apprentice all the way to captain. You have a chance to write your own success story, make good money, take care of your family and take advantage of top-of-the-line benefits.
The school is there for you, as is the SIU.
Happy Holidays
Although we're all still dealing with the COVID-19 pandemic, we've at least been able to take some steps toward normalcy during the past year. It hasn't been easy, and I appreciate the sacrifices and efforts of everyone throughout our organization, starting with the rank-and-file members and most definitely including our staff and our officials.
As we head into the winter holidays, I wish everyone safety and happiness. If you're at sea during the holidays, thank you for helping fulfill our commitments. If you're home, enjoy time with your family and friends.
No matter what, guard your health and we'll continue making progress in the New Year.
###