Time to Redouble Safety Efforts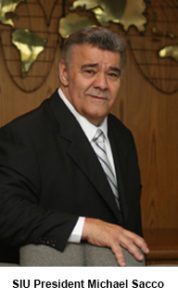 Back in February, if someone had used the expression "COVID fatigue," we'd have looked at them as if they were crazy.
Unfortunately, everyone reading this column knows what it means, and I think it's no exaggeration to say we've all experienced it at least from time to time.
Brothers and sisters, over the years, I have usually written about various aspects of the U.S. Merchant Marine and the labor movement. Vocational training, grassroots political action, new opportunities for growth in our industry, workers' rights – these are the important everyday subjects we tackle.
This month, the topic is of utmost seriousness and magnitude. It is nothing short of a life-and-death matter.
I urge every Seafarer to summon the energy to overcome COVID fatigue and double down on your efforts to keep yourselves, your families and your shipmates safe. Many of you know that the American-flag fleet, including several SIU-crewed ships, recently experienced a number of confirmed cases of the coronavirus. Even though the numbers are relatively small, they aren't insignificant – and it goes without saying that even one case is too many.
In some ways, I think our country collectively let down our guard around Memorial Day weekend. People were tired of the entire experience, and as various states eased into different phases of reopening, it may have been inevitable that we'd have as many individual interpretations of the definition of safety as there are individuals. Look, if I feel this way, I'll bet you might, too: It's fair to say that some of the guidelines have been inconsistent. We've all seen the resulting spikes in various states across the country.
It hasn't been rampant, but that same relaxation of caution seems to have happened on some of the ships. I have no interest in pointing fingers and I believe that the vast majority of our members are in fact being very careful, both at sea and ashore. But with this pandemic, it only takes one careless individual – even somebody visiting from ashore – to infect an entire crew. That's why it's so vital to find a second wind and understand that all of the safety protocols not only are lifesavers, they are going to be part of the "new normal" for the foreseeable future.
This is also the time for our ships' chairmen and shipboard committees to step up as leaders and embrace those responsibilities.
Not to be overlooked in this discussion is mariners' role as part of America's essential workforce. Such a designation isn't lightly made by federal and state governments. And if there were any doubt about how crucial Seafarers' work really is, recall the recent messages of thanks posted by U.S. Secretary of Transportation Elaine Chao, U.S. Transportation Command's commanding officer Gen. Steve Lyons, and U.S. Maritime Administrator Mark Buzby. All of them went out of their way to express respect and gratitude for our crews. They know you are making sacrifices during this emergency to get the job done. They know it's not easy. And they also know they can count on you to uphold the finest traditions of the Brotherhood of the Sea. We were bound to take some hits from the pandemic. It's a global crisis with no modern-era comparison. But we owe it to ourselves, to our families, and to our shipmates to remain vigilant and do everything possible to remain safe, regardless of location.
Whenever this finally ends – and it will end – I certainly won't miss all the conference calls and masks and barriers and hand sanitizer. But in the meantime, I'm treating the precautions like my life depends on it. Please do the same, and we'll all be around for better days.
###