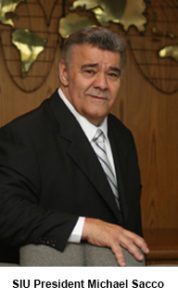 Opportunity for Justice
For those of us in the labor movement, or, really, for anyone familiar with our work, the awful irony was impossible to miss. Vandals extensively damaged the lobby and other first-floor areas of the AFL-CIO headquarters building late on May 31. They broke windows and doors and set fires in the facility as other individuals engaged in peaceful, legitimate demonstrations in the nation's capital (and across the country).
For those who don't know, the AFL-CIO building is across from the White House.
Ultimately, as AFL-CIO President Richard Trumka said, the building itself is just that – a building. Thankfully, no one was inside at the time, and the sprinkler system at least limited the damage, which nevertheless was extensive.
The irony, of course, is that the federation and its affiliates, including the SIU, have long been on the front lines of the fight for racial justice – not just when it comes to law enforcement, but also for economic equality. Unions typically have higher percentages of minorities in their memberships than the general public. The gains we've secured throughout the decades have helped union and unrepresented workers (of all colors) alike, but for those who enjoy the benefits of membership, we focus not on race but on the "black and white" written in the contract.
Many, many years ago, the SIU was segregated. I am not blind to the racism that existed in the labor movement in general, either. Thankfully, we turned the corner within our ranks a long time ago. It's certainly possible to cherry-pick examples of current individual discrimination, but on the whole, organized labor has been and remains at the forefront of this fight.
While we're on the subject, let's get something straight. When someone says, "Black Lives Matter," they are not saying other lives don't matter.
We all saw the video of George Floyd being suffocated by a police officer – a sickening sight that ultimately resulted in Floyd's death. It's not an isolated example, and it called attention to a longstanding problem in a way that cannot and must not be avoided.
But that's not the only struggle faced by our African-American brothers and sisters. I'm not sure how widely known this is, but historically, black workers have faced unemployment rates twice as high as those of their white counterparts. And from what I've read, the statistics can't be explained away by differences in levels of education. At every level of education, the black unemployment rate is significantly higher than the white unemployment rate, even for those workers with college or advanced degrees.
Outside the labor movement, there are also, to this day, significant wage gaps between white and black workers. No matter how you slice the data, that's the reality.
Here's some more reality: Almost all police officers are decent people doing their best in a difficult job. Most people aren't racists, and, as we saw with the AFL-CIO building, there are those who want to create trouble.
But we still live in a world divided in many ways by color lines. To build a different, better economy and better way of life, we need power that can only come from solidarity – and solidarity has to start with having all our voices be heard. We should begin by acknowledging our own shortcomings and honestly addressing issues that are faced by the communities in which our members live – both the problems and the solutions. We have to find a way to see with each other's eyes.
As with any longstanding problem, there isn't an overnight solution here. But I'm confident in our country, our movement, our union. Let's keep the lines of communication and dialogue open and let's work – together – for meaningful change.
###