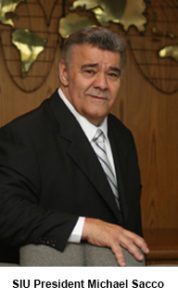 We're Up to the Challenge
As of this writing in early April, our country was bracing for what was expected to be a surge of confirmed coronavirus cases, despite nationwide efforts to limit their spread.
You all know that the COVID-19 pandemic is tragic, complicated and unpredictable. It has upended what we recently considered "normal life" in so many ways. The loss of lives around the world has been devastating; the economic harm figures to be massive.
There are two things above all else that I want SIU members and your families to know. First, every decision made by me and our other officials has been done first and foremost with your wellbeing in mind. We have been conducting weekly SIU video conferences (along with participating in what sometimes feels like a million conference calls with various agencies and operators). I open and close those SIU-specific online meetings the same way: by telling everyone to keep safety at the absolute top of the list in every single action we take.
The second main point is that we will indeed get through this together. Our organization has a rock-solid history of rising to the occasion, no matter the circumstances. Our members take a backseat to no one when it comes to serving as America's fourth arm of defense.
No one knows how long the pandemic will last, but better days lie ahead – and SIU-crewed vessels will help lead the way in the recovery.
Meanwhile, please make sure you're getting the latest union news from our website, from our text service if you're so inclined, and definitely from the hiring halls, which are staffed as usual and reachable by phone and email even though they're closed to walk-ins. As many of you know, we're active on social media as well, so that's another way to keep up with announcements.
I know you'll stick together, support each other, and keep up your wonderful professionalism aboard the ships. There's a reason the U.S. Merchant Marine has been designated as an essential part of the workforce – and there is no doubt we'll deliver.
Jones Act Turns 100
On a much different note, next month marks the centennial for arguably the most important maritime law in U.S. history. The Jones Act always has been vital to America's national, economic and homeland security. Without it, the American-flag fleet would be wiped out, as would the pool of U.S. citizen mariners who crew our commercial and military-support vessels. In turn, our country would face monumental security risks as foreign-flag vessels and boats and foreign crews had free reign on our rivers, waterways and coastlines.
The Jones Act regularly comes under attack by foreign-flag interests and misguided free-traders who don't give a damn about the U.S. Merchant Marine or America's better interests. They conveniently overlook the bipartisan support enjoyed by the nation's freight cabotage law, along with the top-level backing from our military leaders. And don't expect the anti-Jones Act crowd to acknowledge the 653,000 American jobs supported by the law, or the fact that 91 nations around the world maintain some form of cabotage law.
The Jones Act was exceptionally sound policy when it was enacted in June 1920. Today, it's arguably more important than ever, and I'm proud to lead all of us in supporting it.
###