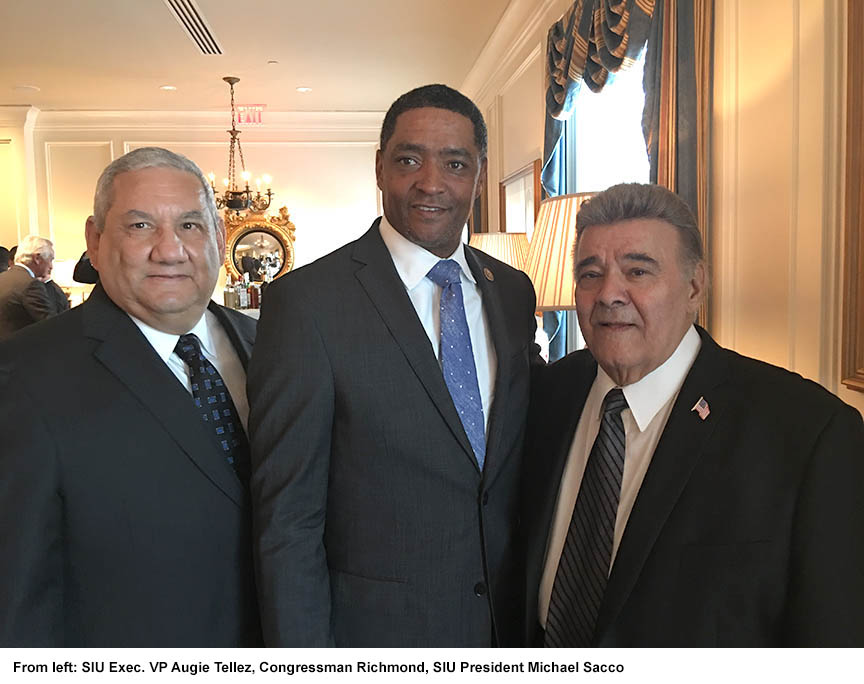 Once again declaring himself "a strong supporter of the Jones Act" and "a strong believer of cargo preference," U.S. Rep. Cedric Richmond (D-Louisiana) received the International Propeller Club of the United States annual Salute to Congress Award.
During a dinner in northern Virginia on May 1, Richmond became the 35th elected official to be so honored.
SIU attendees included President Michael Sacco, Executive Vice President Augie Tellez, Secretary- Treasurer David Heindel, Vice President Great Lakes Tom Orzechowski, Assistant Vice President Pat Vandegrift, Political and Legislative Director Brian Schoeneman, Senior Political Consultant Terry Turner and Consultant Lanier Avant.
Richmond said that maritime's "positive impact on the U.S. economy is real." He noted that he helped create the Congressional Maritime Caucus (which he chairs) to raise awareness of the industry in Congress because "Democrats and Republicans come from every corner of the nation."
The five-term representative from New Orleans told the audience, "Any effort to chip away at the America First maritime policy is a step in the wrong direction. Maritime is imperative for the economic vitality of this nation."
Richmond also announced he is a proud sponsor of the effort to honor World War II merchant mariners with a congressional gold medal: "Now is the time for them to receive Congress' highest honor."
The legislator received the 2018 Government Man of the Year Award from the Maritime Port Council of Greater New York/New Jersey and Vicinity. He addressed the 2013 Maritime Trades Department Convention.
###