Green Lake to the Rescue

There is no greater example of our union's motto, Brotherhood of the Sea, than the outstanding rescue efforts that were made by Seafarers aboard the Green Lake on New Year's Eve. Our members were first on the scene of a tragic fire aboard a Panamanian-flagged vessel that caused its crew to abandon ship. As others joined in the rescue, union members from the SIU-crewed ship pulled seven mariners to safety. There were nine other survivors, while five individuals from the disabled ship didn't make it.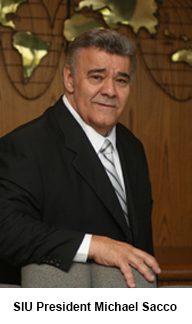 It's a tragedy that could have been worse if not for the work of the SIU, MM&P and MEBA members from the Central Gulf Lines-operated Green Lake. Worth noting: All of the SIU members aboard that ship have trained at the union-affiliated Paul Hall Center in Piney Point, Maryland. And the bosun said the training definitely made a difference.
Check out our coverage elsewhere in this edition, and in the meantime, I extend heartfelt kudos to the Green Lake crew along with condolences to the victims and their families.
This particular rescue made international headlines, but for the SIU, it was just the latest of many. Our members normally assist in several rescues per year, and while not every incident receives prominent coverage, each operation reinforces why I believe SIU members are the world's best-trained mariners. 
Jones Act Fight Continues
There should be a statute of limitations on ridiculous attacks against America's freight cabotage law, but last month saw another round of falsehoods – specifically about the Jones Act's effect on Puerto Rico after Hurricane Maria.
If you're new to the industry or otherwise weren't keeping up with this saga for the last year-plus, the short – and fully accurate – version is that Jones Act ships were first on the scene in the territory once the ports reopened. Because of the devastated inland infrastructure, relief supplies stacked up at the ports. The Jones Act not only didn't delay or prevent any aid, it actually helped ensure timely deliveries.
The Jones Act doesn't prevent foreign-flag vessels from calling on Puerto Rico, which in fact normally receives about two-thirds of its cargoes from foreign bottoms. Also often lost in the bizarre retellings of Jones Act-related Maria stories is that a temporary waiver was granted. It didn't make any difference because it wasn't needed in the first place.
As mentioned recently, we're in the midst of what promises to be a long and tough fight. Jones Act opponents are throwing tons of money, other resources, and something I can't mention in a family newspaper in a targeted attempt to sink this crucial law. But the facts are on our side, and we'll keep swinging until we've won. 
Productive Dialogue
One of our union's most important affiliations is with the AFL-CIO, where I am the longest-serving member of the executive council, other than federation President Richard Trumka.
Late last year, the council adopted a statement titled, "Solidarity Pledge for America." The resolution reads in part, "Political extremism has become the norm in America. Constant conflict is cheered and polarizing ideas are reinforced, while conscience-driven compromise is dismissed as weakness. Defamatory mistruths and repugnant rhetoric are hurled from every direction and echoed across social media. We simply don't listen to each other…. This complete and utter breakdown of civil discourse in America is a threat to our very democracy, and it must stop."
While that's an unpleasant paragraph, it reflects the disturbing reality of our times. But as we in the executive council went on to say, the labor movement has a special responsibility to challenge and reject the current state of affairs. Our movement was created more than 130 years ago by a small group of workers looking to create change at work and more broadly in society. Throughout our long history, we've used our position as America's diverse coalition of working families to beat back attempts to divide and destroy us. Unions are like crews on a ship. We come from different backgrounds but we work together to accomplish the goal.
Our statement was about more than just being polite even when we disagree, but that's not a bad place to start, whether you're on a ship or at the hall or, yes, on social media. Take a deep breath, stick to facts, and stand up for what you believe in.
Let's keep working together to promote our industry, defend workers' rights, and uphold the reputation of the Brotherhood of the Sea.
###