SIU-Crewed ConRo Powered by Liquefied Natural Gas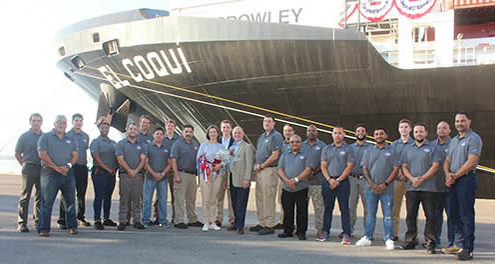 Crowley Maritime's newest SIU-crewed Jones Act vessel officially has been welcomed into the fleet.
Seafarers and SIU officials took part in the El Coqui's christening Oct. 20 in Jacksonville, Florida. SIU Executive Vice President Augie Tellez was a featured speaker; SIU Vice President Gulf Coast Dean Corgey and SIU Assistant Vice President Archie Ware were among the other attendees.
A combination containership and rollon/ roll-off vessel (ConRo), the El Coqui completed its maiden voyage to Puerto Rico in late July. (The vessel originally was slated for christening in August, but severe weather caused the ceremony's postponement.) The Jones Act ship is among the first of its kind to be fueled by liquefied natural gas (LNG).
In addition to Tellez, the christening included remarks from Crowley Chairman and CEO Tom Crowley; Alexander B. Gray, Special Assistant to the President for the Defense Industrial Base; Resident Commissioner Jenniffer González-Colón of Puerto Rico; and U.S. Reps. John Rutherford (R) and Ted Yoho (R), both of Florida.
More than 350 people were in attendance as Crowley Board of Directors Member Christine Crowley, spouse of Tom Crowley, served as sponsor. She performed a time-honored tradition of breaking a champagne bottle over the hull of the 720-foot vessel at the JAXPORT Cruise Terminal.
Tellez said that while the El Coqui is named for a popular species of frog that's indigenous to Puerto Rico, the ship symbolizes many important commitments by Crowley Maritime.
"It represents, first and foremost, Tom Crowley's commitment to the people of Puerto Rico," Tellez stated. "It shows he'll help provide a safe, clean, efficient and guaranteed pipeline to the mainland in the best of times and in the worst of times.
"In the best of times," he continued, "it's a way to get products to market to sustain the Puerto Rico economy. In the worst, it's a guaranteed delivery of supplies needed to recover from any devastation or disaster."
The ship also reflects Tom Crowley's commitment to the Jones Act "not just in words but with tremendous capital investment in the ships and in the infrastructure both here (Jacksonville) and on the island," Tellez pointed out. "That commitment to the Jones Act is, by extension, a commitment to the national and economic security of our country."
The SIU official noted that the Jones Act helps ensure the availability of assets and manpower to meet U.S. sealift requirements while "fueling an economic engine unrivaled anywhere in the world."
Last but not least, Tellez said the company's dedication to American-flag shipping and U.S. crews "provides a doorway that leads to a host of opportunities allowing these mariners to earn their fair share of the American Dream. It affords them the same opportunity that everyone sitting here has enjoyed: to reap the rewards of your labor, grab onto the next rung of that ladder and pull yourself and your loved ones to a better station in life."
Tom Crowley said the christening was "a culmination of many, many years of hard work (and) many, many years of transition for this company. It's remarkable to see the transition. Whether it's going from Ro/Ro to Lo/Lo, the LNG fuel, putting a car house on the back of a container ship, you name it, you go through the transition of what we did to build a ship and create a supply chain that nobody else can match. And it's here today."
Gray lauded the commitment by the company and U.S. maritime industry to lead an innovative new era of maritime and supply chain services that support economic and national security.
"El Coqui represents not just the $3 billion investment that Crowley has made in this industry in recent years, it really is the future of the maritime industry itself," Gray said. "The vessel is powered by liquefied natural gas … it's the cleanest fossil fuel available. It will serve as a shining example of the technological innovation that's going to allow this industry to remain a global leader for decades to come."
"Many people may talk about amending the Jones Act or taking it away, but they're not living on the island," said Rep. González-Colón. "And they don't need that supply on a daily basis, on a weekly basis, and have it reliable like we receive it today – and that's the reason I support the Jones Act."
The El Coqui can transport up to 2,400 twenty-foot-equivalent container units (TEUs) at a cruising speed of 22 knots. The ship can accommodate containers in a wide range of sizes and types – including 53-foot by 102-inch-wide, high-capacity containers and refrigerated containers. Within the ship is an enclosed, ventilated and weather-tight Ro/Ro deck that can protectively carry cars and larger vehicles. According to the company, "This type of shipboard garage is offered exclusively by Crowley in the trade, enhancing supply chain solutions for customers."
The ship is the first of two vessels being built as part of Crowley's Commitment Class project. Sister ship Taíno is in the final phases of construction and testing at VT Halter Marine's shipyard in Pascagoula, Mississippi. That vessel is expected to be delivered later this year. It also will carry an SIU crew.