Seafarers and SIU officials recently took part in ceremonies to help honor and preserve the memory of the El Faro's final crew.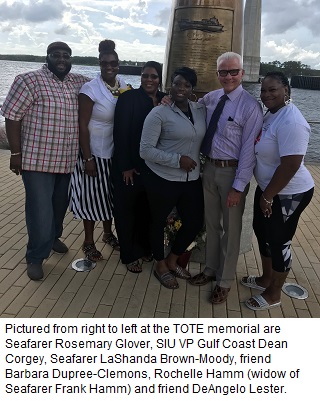 Three gatherings happened in Florida: The Seafarers-affiliated American Maritime Officers (AMO) on Sept. 29 dedicated a memorial on the AMO Plans campus in Dania Beach.
SIU-contracted TOTE on Oct. 1 hosted a ceremony at the El Faro memorial in Dames Point Park in Jacksonville.
The SIU conducted a brief remembrance Oct. 11 at the Jacksonville hiring hall (the day of the monthly membership meeting).
SIU personnel attending one or more of the ceremonies included Vice President Gulf Coast Dean Corgey, Assistant Vice President Archie Ware and Assistant Vice President Kris Hopkins. Seafarers Plans Administrator Maggie Bowen attended the dedication in Dania Beach.
Others in attendance included El Faro family members, TOTE executives, Coast Guard personnel, Seafarers and AMO members, executives from other ship-operating companies, representatives from Seafarers' House Port Everglades, local politicians and more.
The El Faro sank on Oct. 1, 2015 near the Bahamas, in Hurricane Joaquin. All 33 people aboard the vessel perished – 17 SIU members, 11 AMO members, and five Polish men who comprised the riding gang.
AMO National President Paul Doell stated at the Sept. 29 gathering, "We all know that the officers, crew and riding gang aboard El Faro fought heroically for each other – as friends and as family – against nature at her strongest. Our hope this morning is that our El Faro families have found measures of peace and comfort after all this time.
"Like others before it, the memorial we dedicate today will help sustain the feelings, the sentiments we all know so well," he continued. "Everyone who passes through here from this moment, for training or to participate in an industry conference, will pause in this place to reflect. They will share stories about their seagoing experiences with personal friends lost off Crooked Island in the Bahamas. They will tell their children what this memorial represents. And they will ask the difficult questions each of us has asked for three years, questions for which there are no easy answers."
For the TOTE gathering, bad weather stopped just long enough for the outdoor proceedings.
Meanwhile, the SIU hall in Jacksonville also features an El Faro memorial (dedicated in 2016). On that site, Corgey read the crew members' names and added, "I'm sure it's hard for all of us to believe three years have passed since the tragic sinking of the El Faro. But one thing you definitely can believe is that we'll never forget the 33 men and women we lost that day. They are memorialized here in Jacksonville, and in Dania, and in (Piney Point) Maryland – and most importantly, they'll always be in our hearts."
Corgey continued, "Everyone in the maritime industry understands there are certain dangers that cannot be avoided. There's also a constant need to focus on safety and make improvements so that our seafarers face as little risk as possible. And while we're never going to be perfect, I do think that our industry has collectively responded to the El Faro tragedy with earnest, detailed efforts to pinpoint the problems and to take steps to help avoid repeating them.
"Today, however, our focus is on the memories of the SIU members, AMO officers and Polish riding gang, plus all of their families. They're a part of this organization's history that'll never be forgotten."