For Recertified Bosun Carlos Loureiro, 1,000 words wouldn't begin to cover the experiences he can recall when viewing an unexpectedly acquired photo of the Overseas New York and Alaskan Frontier.
While the longtime Seafarer has sailed on many different vessels since joining the union in 1991, he has spent the majority of his career aboard those two ships, dating back to when he first signed onto the New York in June 1996. (That ship was built in 1977 and scrapped in 2005. There's also a current SIU-crewed tanker named Overseas New York.)
Last year, he finished what he thought was his last voyage on the Frontier before the vessel was going to enter deep layup overseas. (The ship subsequently continued sailing until June 2018, then went into layup.) Prior to descending the gangway for what he believed was one final time, he followed friendly orders from an Alaska Tanker Company (ATC) official to find a new home for the photo, which had been taken down specifically for Loureiro after being on display aboard the ship since 2004.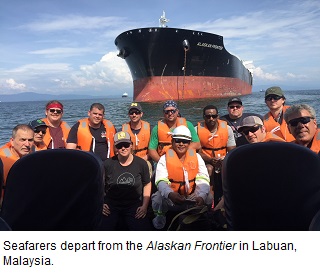 "The photo was taken near Valdez, Alaska, during the Alaskan Frontier's maiden voyage in 2004," the bosun recalled. "We were anchored for five days at Knowles Head, and the New York was there at the same time. We put a fast rescue boat in the water and took photos. I remember thinking at the time, 'This picture is mine, and it's eventually going home with me.' It took a while, but I did end up with it."
He continued, "That picture has a lot of meaning for me. You've got all this time on two ships – that's something you always want to remember, something I can show my grandkids." (He has two grandchildren.)
While most of his memories of working on those vessels are positive, the ships themselves are "totally different," he pointed out. "For starters, they had different plants. One was a steamship (the New York) and the other is diesel/ electric. The New York was 90,000 dwt and would carry about 650,000 barrels of oil, whereas the Frontier is 193,000 dwt and carries 1.3 million barrels. One thing they do have in common is they both were built in the same shipyard, NASSCO (a union facility in San Diego)."
Both ships also stayed on a West Coast run, normally with stops in California, Washington, Alaska and Hawaii. They also had the same operator, Alaska Tanker Company (though the New York initially was run by OSG). "It's a top-of-the-line company," the bosun said. "They treat you right, there's good morale on the ships, and the money is good. There's a lot of emphasis on safety.
"In fact, we are really proud of the safety accomplishments over the years," he continued. "It's a team effort all the way and the company and crews have earned an outstanding safety record."
Indeed, ATC has accumulated a substantial collection of well-earned safety awards. That list includes the Governor's 2017 Special Achievement Award, presented during a conference in Anchorage, Alaska. ATC was recognized for its crews having completed more than 21 million man-hours (spanning 15 years) with only a single lost-time injury (a broken finger).
Ironically, while the Alaskan Frontier entered service almost three decades after the New York, Loureiro (who completed the bosun recertification course in 1997) said the older vessel had at least one advantage: "It had an elevator all the way down to the machine shop. On the Frontier, it's all stairs."
Reflecting on his career, the bosun concluded that while it feels natural for him to sometimes consider retirement, he's in no hurry. "I recently turned 62 and I've got my time in, but I love what I do," he said. "ATC is a great company to work for and the SIU has helped me provide for my family all these years. There's a lot to be thankful for."