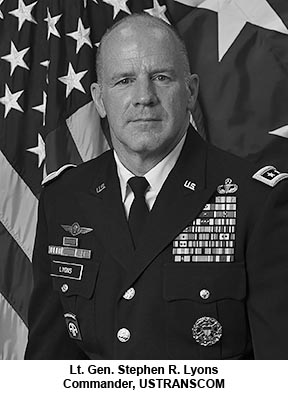 U.S. Army Lt. Gen. Stephen R. Lyons is the new commander of the U.S. Transportation Command (USTRANSCOM) at Scott AFB, Illinois.
Lyons, who was confirmed for the post August 1 by the U.S. Senate, replaced U.S. Air Force Gen. Darren McDew. McDew, who had been at the command's helm since August 2015, retired August 24 following a change of command ceremony.
"Lt. Gen. Lyons is a rare soldier, officer, and leader," said McDew of his successor. "He will be the command's first Army commander, as well as the Army's first Logistician Combatant Commander.
"As our joint warfighting enterprise continues to evolve in today's unique environment, Lyons' expertise will surely enable the continued advancement of our command," he continued. "Having commanded at every level from company to major subordinate command, and previously serving as USTRANSCOM's deputy commander, he is up to the crucial task of leading the 144,000-strong USTRANSCOM team. Everyone across the command and the joint deployment and distribution enterprise will benefit from his direction and leadership."
A strong supporter of the U.S. Merchant Marine, the American maritime industry and key programs that help keep the industry alive – including the Jones Act, Maritime Security Program (MSP) and cargo preference – Lyons is keenly aware of the crucial role that each plays in U.S. national security and continued economic prosperity.
In testimony before the U.S. House of Representatives in May 2016 wherein the size of the country's maritime security fleet was at issue, Lyons joined a host of congressmen and senior maritime transportation officials who defended and stood behind a strong and robust Americanflag capability. He testified that "the case for a U.S.-flag fleet is compelling" and that several mobility capability studies done by Transportation Command have repeatedly reaffirmed the need for at least a 60-ship MSP fleet.
Lyons again spoke out for maritime in June 2017 during a naming ceremony for the SIU-crewed MV Liberty, an American Roll-On Roll-Off Carrier (ARC)-owned vessel that earlier in the year reflagged under the Stars and Stripes and entered the U.S. registry. "
ARC plays a significant role in our nation's commitment to the security of our nation and our NATO allies," Lyons said to attendees at the ceremony in Charleston, South Carolina. "We can't underestimate the strategic impact of global images depicting the arrival of an armored brigade combat team on ARC's Resolve, Endurance, and Freedom, or the arrival of a combat air brigade on Endurance and Honor. And now we are happy to welcome Liberty to the fleet."
A native of Rensselaer, New York, the general graduated from the Rochester Institute of Technology and was commissioned in 1983. He received a master's degree in logistics management from the Naval Postgraduate School in 1993, and national resource strategy master's degree from the Industrial College of the Armed Forces in 2005.
Lyons previously served as the USTRANSCOM deputy commander. He also served as commanding general of the 8th Theater Sustainment Command in Fort Shafter, Hawaii. Prior to serving as commanding general he served as the director for logistics, operations, readiness, force integration, and strategy, office the deputy chief of staff of the Army, in Washington, D.C.
The general has also served in a variety of assignments providing him with extensive logistics and management expertise. He began his career in Germany during the Cold War and subsequently held a wide range of operational assignments to include command at company, battalion, brigade, and major command levels. Since 2003, Lyons has spent more than 40 months deployed to the U.S. Central Command area of responsibility in support of Operation Enduring Freedom and Operation Iraqi Freedom.
USTRANSCOM is a global combatant command and the transportation provider for the Department of Defense
###