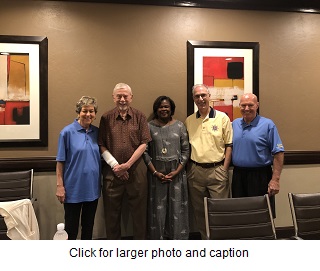 The higher education goals of nine individuals moved one step closer to fruition May 4 when the Seafarers Heath and Benefits Plan (SHBP) Scholarship committee conferred upon them scholarships totaling $132,000.
Convening in San Diego, the committee bestowed a series of grants to four active Seafarers and five dependents. On the SIU side of the ledger, JonDa Tanner was the recipient of a three-year $15,000 award; Joseph LoGuidice and Karl Mayhew each claimed a two-year, $6,000 grant; and Jarvis Atkins collected a oneyear, $5,000 scholarship. Dependents Katherine Conway, Junnel Grace Dingman, Ruth Isabel Dinongm, Gabriel Garcia, and Guan Polompo were the recipients of four-year awards totaling $20,000 each.
JonDa Tanner
Deep Sea Chief Steward JonDa Tanner was born in Alaska but currently calls Lynwood, California, home. A 1996 graduate of Foster High School in Tukwila, Washington, she completed three semesters of classes at North Seattle Community College in Seattle. She later spent five years working with Norwegian Cruise Lines.
Tanner donned the SIU colors in 2000 and graduated from the apprentice program at the union-affiliated Paul Hall Center for Maritime Training and Education in Piney Point, Maryland. Since completing the apprentice program, Tanner has returned to the school on several occasions to upgrade her skills. Most recently, she completed the Chief Steward 2.0 Orientation/Assessment course.
While working for Norwegian Cruise Lines, Tanner said she discovered that life on the high seas was a career that truly fit her personality. She became a union delegate and became hooked on organized labor.
"I felt the union saved me and now I could give something back to them," she said. "After five years, I decided to switch to the SIU (from the SIU-affiliated Seafarers Entertainment and Allied Trades Union). I want to be an example for the members of the union to rise above their circumstances. I want to finish what I started by getting my college degree with the help of the union."
Tanner has applied for admission to North Seattle Community College, the same institution she attended following her graduation from high school. She will pursue a double major on literature and drama.
Joseph LoGuidice
Deep Sea QMED Joseph LoGuidice joined the union in 2011 and was a members of Apprentice Class 747 at the Seafarers-affiliated maritime training center in Piney Point, Maryland. The husband of a U.S. Air Force spouse, he recently sailed aboard the USNS John Glenn, operated by Ocean Shipholdings, Inc.
A frequent upgrader, LoGuidice has returned to the school on several occasions to improve his skills. Most recently, he completed his requirements in the Basic/Advanced Firefighting and Tanker Familiarization LG courses.
A native of Denville, New Jersey, LoGuidice is a 1996 graduate of McClintock High School in Tempe, Arizona. While in high school, he was a member of the wrestling team.
"I finished my apprenticeship in 2012 and started sailing in the engine department," he said. "I've been back to Piney Point to upgrade numerous times. I'm applying for this scholarship to help me pay for the 10 classes I would need to get my associate's degree through the College of Southern Maryland. This degree would give me the opportunity to stay on land in the future and support my wife through her Air Force career as she has done for me the last six years while I'm out at sea."
Karl Mayhew
Deep Sea Recertified Bosun Karl Mayhew donned the SIU colors in 2001. Born in New York City, he graduated from H.C. Williams High School in Canton, New York. Mayhew earned 32 credits at the State University of New York at Canton.
Since joining the union, he has upgraded his skills no fewer than 11 times at the PHC, including in 2016 when he completed the bosun recertification course, the highest level of training available to unlicensed members who sail in the deck department.
Looking back over his career as a merchant mariner and member of the SIU, Mayhew has no regrets. "I believe entering the U.S. Merchant Marine (USMM) was the best decision I have ever made," he said. "It has allowed me to learn the importance of working in a team environment and has instilled many positive values (in me)."
He continued, "Essentially, it has made me see the importance of always doing the right thing. Further, the USMM has provided a reliable means of making a living and providing for myself and family."
Now, Mayhew aspires to take his career to the next level. "I would like to further my career by gaining a college degree and continuing my education in an ever-changing merchant marine environment," he said. "I am very thankful I have chosen this career path and intend on being part of it until my retirement."
Mayhew plans to pursue a degree in nautical engineering at the College of Southern Maryland.
Jarvis Atkins
Deep Sea OMU Jarvis Atkins was born in Roanoke, Virginia, and now resides in Portsmouth, Virginia.
He currently works aboard the MV Capt. David I. Lyon, operated by Sealift, Inc. "For the past three years … I have been sailing as an oiler or junior engineer, depending on what ship the company needs me on," he said.
Married and the father of two children, Atkins is a 1996 graduate of Stafford High School in Stafford, Virginia and holds a bachelor's degree in finance from Norfolk State University in Norfolk, Virginia. He is veteran of the U.S. Marine Corps Reserve.
Atkins signed on with the SIU in 2013 and was a member of PHC Apprentice Class 764. A frequent upgrader, Atkins has enhanced his skills on numerous occasions at the union-affiliated school, most recently in March of this year when he completed five U.S. Coast Guard-approved courses.
He applied for the SHBP Scholarship program in order "to be considered for the two-year scholarship to continue my quest in obtaining my Third Engineer's License," he said in his application package. "I am currently sailing as a QMED for Sealift Inc. and will soon have the required amount of sea days to sit for my Third Engineer Exam."
Atkins also said he needed to successfully complete five classes to achieve his goal. "My plan is to take two classes in the fourth quarter of 2018 and the remaining three classes in the first or second quarter of 2019," he said.
He has applied for admission to the Mid Atlantic Maritime Academy in Norfolk, Virginia, as well as the Chesapeake Marine Training Institute in Hayes, Virginia.
Katherine Conway
Katherine Conway is the daughter of Inland AB Nicholas Conway (and mother Susan, a teacher) who joined the union in 1999.
Conway is a 2018 graduate of Gloucester County Institute of Technology in Sewell, New Jersey, where she was involved in a number of athletic as well as other extracurricular activities. Included were membership on the school's junior as well as varsity cross country, track and bowling teams. Additionally, Conway was active in her school's student council, holding the office of public relations officer from 2017 to 2018. She also volunteered her time supporting the school-based youth services program and other community outreach activities.
Ultimately, Conway hopes to become a nurse. To achieve this objective, she has applied for admission to the following schools: Neumann University, Aston, Pennsylvania; Rutgers University, Camden, New Jersey; Stockton University, Galloway, New Jersey; and LaSalle University, Philadelphia.
Junnel Grace Dingzon
Junnel Grace Dingzon is a 2018 graduate of Baltimore Polytechnic Institute in Baltimore. She is the daughter of Deep Sea ABG Julian Dingzon (and mother Nelia, an office staffer) who has been sailing with the SIU since 2010.
Born in the Republic of the Philippines, Junnel Grace now resides in Baltimore. She has five siblings. While in high school, she participated on the tennis team and held membership in the ethics, environmental, yoga/meditation and German clubs. She also volunteered with the Maryland Society for the Prevention of Cruelty to Animals.
Junnel Grace currently works at a frozen yogurt shop at the Baltimore Washington International Airport where she "hopes to save up money for college and develop better communication skills." Her ambition is to earn her degree in biochemistry. "I aspire to be a neurologist someday and give back to the field that I'm so passionate about," she said.
To achieve her goal, Junnel Grace has applied for admission to the following institutions of higher learning: Johns Hopkins University, Baltimore; Bucknell University, Lewisburg, Pennsylvania; Lafayette College, Easton, Pennsylvania; and New York University in New York City.
Ruth Isabel Dinong
Ruth Isabel Dinong is the daughter of Deep Sea ABM Rolando Dinong (and mother Ofelia, a dental assistant) who sails aboard the Ocean Ships, Inc.-operated USNS Montford Point.
Ruth Isabel was born in the Republic of the Philippines and currently resides in Daly City, California. She has one sibling. A 2018 graduate of Westmoor High School in Daly City, she was active in her school's student government as well as the California Scholarship Federation and the Westmoor Service Commission. Ruth Isabel also spent numerous hours volunteering at the Second Harvest Food Bank where she helped distribute meals to low-income households and senior citizens.
She plans to pursue a career in global studies and has applied to 10 institutions of higher learning to achieve her objective. Her top choices are: Northeastern University in Boston; the University of Washington in Seattle; the University of California, Los Angeles; and the University of California, San Diego.
Gabriel Garcia
Gabriel is the son of Deep Sea Recertified Steward Raymond Garcia (and mother Mazie, a staff member at the University of California, San Francisco.) He has six siblings.
A 2018 graduate of Novato High School in Novato, California, Garcia since an early age has had a deepseated passion for gardening. While in high school, this passion led him to be more involved in his community. He took a leadership role in his school's gardening club and volunteered many hours at gardens in his area. Along the way, he coordinated and consulted with "master gardeners," a group of volunteers who are trained and certified by the University of California.
Garcia also helped launch a campus beautification project. Besides restoring his school's garden irrigation system, the endeavor sought to increase student participation in environmentalrelated undertakings.
"I want to be a research doctor while simultaneously advocating for environmental awareness," he said in his scholarship application package. His goal is to obtain his degree in plant biology.
Garcia has applied for admission to the following schools: University of California- Berkley, Berkley, California; University of California-Davis, Davis, California; Brown University, Providence, Rhode Island; and Johns Hopkins University, Baltimore.
Guian Palompo
Guian Palompo is the son of retired inland DEU Nestor Palompo (and mother Jeannette, a delicatessen employee) who spent most of his career working with Crowley Towing and Transportation in Jacksonville, Florida.
Palompo is a 2018 graduate of Jacksonville's Atlantic Coast High School where he was active in a host of student activities. He was a member of the National Honor Society and served as vice president of the Multicultural Club. Additionally, he was heavily involved in his school's math, science and history clubs.
In the community service arena, Palompo spent numerous after-school hours volunteering. He served as camp counselor for a local high school and was a resolute supporter of a Baptist health volunteer program.
Guian's goal is to obtain his degree in mechanical engineering. To realize his ambition, he has applied for admission to the University of Central Florida, Orlando, Florida; University of North Florida in Jacksonville, Florida; and the University of Florida, Gainesville.
# # #