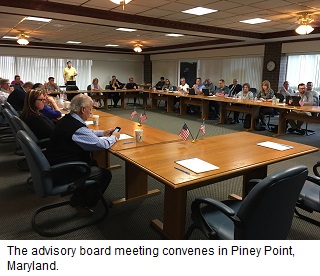 The Paul Hall Center for Maritime Training and Education (PHC) is constantly pushing to stay ahead of the ever-changing needs of the industry – and that's an endeavor that works best with input from different stakeholders.
With that in mind, the PHC on April 25 hosted a meeting of its advisory board, which features representatives from the school, the SIU and Seafarers-contracted companies. The information-packed gathering took place at the Piney Point, Maryland-based campus, with approximately 40 people in attendance.
Topics covered by the board included engine department curriculums; storekeeper training; the revamp of the school's steward department classes; the global opioid epidemic and what's being done to combat it; and apprentice training that focuses on social responsibilities, communication and more.
The meeting blended formal presentations with substantial question-and-answer sessions. Attendees included officials and staff from the school, the union and the Seafarers Plans; executives from a half-dozen SIU-contracted companies; an inspector from the International Transport Workers' Federation; and employees from Comprehensive Health Services.
The formal presentations were given by (in order) Bill Dodd, a PHC engine department instructor; PHC Director of Training Priscilla Labanowski; PHC Vice President/Manpower Director Bart Rogers; PHC Executive Chef John Hetmanski; SIU Plans Medical Director Dr. Eric Schaub; and Dr. John Gallagher, director of the Seafarers Addictions Rehabilitation Center.
Also addressing the meeting were PHC Acting Vice President Tom Orzechowski, SIU Vice President Contracts George Tricker and Seafarers Plans Administrator Maggie Bowen.
Dodd comprehensively explained current and projected engine department courses, including a program that's being developed to facilitate progress from apprentice to third assistant engineer. He said all of the classes are very true to what mariners will experience aboard ship.
Dodd also said the school's hands-on training is a valuable hit with students. "It's not just show and tell" in the courses, he said.
Orzechowski, Rogers and Labanowski then talked about the school's new class for storekeepers (see related story on page 7). "It's pretty intense," Labanowski said.
Rogers stated, "All in all, it's a huge success."
Instructors and students in the first offering sometimes teamed up for 12 hours a day in order to properly review the curriculum.
Next, Hetmanski and Labanowski reviewed Culinary 2.0, the school's revamped coursework for steward department members. The updated classes are being offered to upgraders and to apprentices.
"It has been going very well," Hetmanski said. "The interest is there" from students.
Extensively covered in past editions of the Seafarers LOG, Culinary 2.0 refers to the overall steward department curriculums and also to a pair of specific courses: Orientation/ Assessment Chief Steward 2.0 and Orientation/ Assessment Chief Cook 2.0.
Labanowski said the course critiques submitted by students have been "extremely wonderful."
Schaub briefly reviewed the U.S. Coast Guard's history of drug testing, which started in the 1990s. He also described both how the opioid crisis developed and a relatively new concern about possible impairment on the job from legal drugs. Schaub talked about ways in which the medical department, the Seafarers Plans and the union are working together to help ensure personal and shipboard safety while also facilitating members' ongoing eligibility to ship.
Finally, Gallagher gave an energetic overview of various topics that are mandatory parts of training for the school's apprentices. They include social responsibility, communication, problem solving and conflict resolution, diversity, health awareness and much more.
Near the end of the meeting, a shipping company executive who first visited the school in the 1970s stated, "Everyone here should be complimented, from the top down, on everything from the quality of the training to the quality of the food to the quality of the facilities. It's remarkable and you should all be proud of it. It's very impressive."
# # #