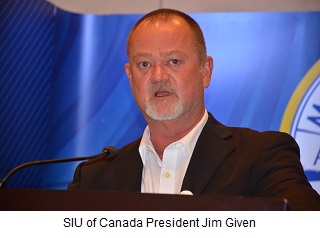 The top official from the SIU of Canada gave an information-packed report to the Maritime Trades Department (MTD) executive board March 9.
President Jim Given detailed his union's exhaustive efforts to protect Canada's maritime cabotage laws and said significant victories have been achieved. There are also plenty of ongoing challenges, Given told the board and guests.
"Every single day, there is something new – there's another attack on cabotage," Given stated. "And a lot of it is hidden; it's hidden in different legislation like immigration, or it will come down in our budget like it did four years ago on page 310 where they said [foreign] ships could come in without permits."
Given said some of the Canadian cabotage battles stemmed from the Canadian-European Union (EU) Comprehensive Economic Trade Agreement (CETA). That pact called for certain trade routes in Canada to open to EU-first registered vessels between Montreal and Halifax. CETA also included a provision that would allow EU second-registry ships to take cargo away from Canadian-flag ships and opened certain dredging projects to foreigners.
Given reported, "We have recently had change where even if those vessels come into Canada and are able to run, they will now have to run with Canadian seafarers on board; they will not be able to use their foreign crews. So, we look at that as a great victory."
He thanked the MTD for its vital backing in those fights and others, including a more recent one in which the SIU of Canada helped remove viciously anti-maritime statutes from a bill that was before the Canadian government at press time. Its original form, the proposed legislation would have pushed a Canadian second registry and totally eliminated the nation's cabotage laws within seven years.
Similarly, the union helped exclude maritime from the Comprehensive and Progressive Agreement for Trans-Pacific Partnership (CPTPP), a free-trade agreement involving 11 countries including New Zealand, Australia, Brunei Darussalam, Canada, Chile, Japan, Malaysia, Mexico, Peru, Singapore, and Vietnam.
"Also of note," Given added, "there is a temporary entry clause within the [CPTPP] and maritime also has been excluded from it. Foreign workers cannot come in under the [CPTPP]; they still have to follow our immigration laws. So, we are quite pleased with that…. There are absolutely no maritime giveaways."
He said he remains hopeful that maritime will continue to be excluded from the North American Free Trade Agreement, which is being renegotiated.
In what he described as "a very big development" from last year, Given explained that under Canadian law, if no Canadian ship is available for a domestic run, foreign-flag ships can apply to carry the cargo via a waiver.
"Last year, we had some (foreign) tankers come in," he said. "The SIU organized these ships with their foreign workers on board. We took that before the Canadian Industrial Relations Board and they gave us the certification to represent those foreign seafarers not only on those two ships, they gave us the certifications fleet-wide. What that means is that if any of those ships come in to run in Canada, they are covered by SIU Canadian collective bargaining agreements and are covered by the [related] rules. That was a huge, huge win for us."
Indeed, Given said that in 2017, 364 foreign- flag vessels operated in Canada through waivers, which equaled around 2,200 crew members. "So, if you look at the changes and progressions we've made, looking at this year, that's about 2,200 jobs that will go to Canadian seafarers, regardless of the flag of that ship," he said.
Given also pointed out that none of the wins came easily. For example, the SIU of Canada initiated 42 lawsuits to protect maritime workers' rights in the year 2015 alone. The union and the MTD also engaged in many grassroots actions to stand up for Canadian mariners and their families. Among other achievements, those activities helped recoup nearly $1 million in unpaid wages last year for crew members who were sailing under a waiver but weren't getting full pay.
Given reiterated that the fights don't stop, and at times it seems as if enemies of cabotage will stop at nothing to get around the rules.
"To get the ship in, they'd say Canada has a red ship and we need a blue ship. For the workers, they'll say well they are specialized because you guys have blue coveralls and they need guys with red coveralls," he said. "Excuses, excuses, excuses."
Finally, he said his union and its allies have had success in carrying a pro-maritime message to government officials and staff members who "are smart enough to know that they don't know it all. They have sat down with us and listened to us; they've taken our advice. We don't always agree, but we have been able to come to an understanding. What we have learned over the last few years is that when it comes to cabotage, they don't want to hear our problem, they want to hear our solution. More doors have been opened to us since we started taking the real solution to them as opposed to the problem. And that's how we got to where we are…. We have closed every single loophole that they used to use. That has been an amazing journey, and we could not have done it without the support of the MTD, without the support of the unions in Canada and without the support of the SIU in North America. And it's heartening to me after the last four years to look at our membership and say, your job is finally safe … until the next time, and there is always a next time."
# # #