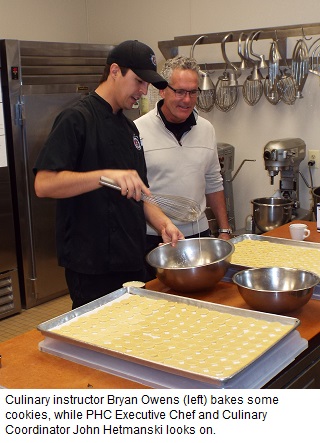 After many months of careful design, review and implementation, the staff of the SIU-affiliated Paul Hall Center for Maritime Training and Education (PHC) has completed an overhaul of the culinary program with the introduction of Culinary 2.0, which is aimed at benefiting SIU members. With a state-of-the-art test kitchen and bakery, brand new galley equipment and a modern, thoroughly vetted curriculum, the program is a testament to the hard work and dedication of the school's administration.
All of the current steward department courses have been redesigned to the new standards of Culinary 2.0, which serves as a blanket term for the new steward department courses and curriculums. For existing chief cooks and chief stewards, there are two new revalidation courses that have been designed to ensure a consistent level of culinary training and efficiency: Orientation/Assessment Chief Steward 2.0 and Orientation/Assessment Chief Cook 2.0.
"The single largest change to the culinary program is the complete overhaul and redevelopment of the written curriculum," said PHC Acting Vice President Tom Orzechowski. "Over 2,000 hours have been invested in rewriting and updating all the culinary curriculum for 2.0."
These changes were based largely on feedback provided by the union's contracted shipping companies, who helped offer a look at the real-life situations occurring within the galleys of the U.S.- flag fleet. Those suggestions provided a blueprint for the school's staff to update the culinary program in a way that will produce the best stewards possible.
PHC Executive Chef and Culinary Coordinator John Hetmanski described the changes to the program, saying, "2.0 was formed by a collection of our contracted partners' concerns about the quality of student coming out of the training. They wanted to improve the students' skills, and to teach them additional skills that were not previously taught. They were also very interested in more class time, increasing the number of assessments and improving the quality of the curriculum."
Hetmanski continued, "So, what we tried to do with 2.0 – and it's still a work in progress – is take the steward department curriculum and put it in the same format as the deck and engine departments … while also incorporating the suggested changes from our contracted operators."
PHC Director of Training Priscilla Labanowski expounded on that point, saying, "The steward department is not governed by the U.S Coast Guard, but we as an institution decided that we should take our culinary courses and put them in the same format, and hold them to the same standards as we would deck and engine courses."
The changes to the curriculum have been continually tweaked and implemented for the past year, and as Labanowski explained, some recent culinary students may have taken the new courses already: "Anybody who took courses in 2017 for Chief Cook or Chief Steward, we went back and gave them certification for Culinary 2.0 because they're under the new program. Anyone going forward, of course, will earn the certification after passing the program."
For those already sailing, all steward department personnel must attend one of the revalidation courses within 24 months of implementation in order to exercise preference and priority in accordance with Shipping Rule 5.A.(6). That rule, which will go into effect January 1, 2020, states, "Within each class of seniority in the Steward Department, priority shall be given to those seamen who possess an advanced Culinary 2.0 certificate from the Seafarers Harry Lundeberg School of Seamanship, in the event such program is being offered and that the seaman is registered in Group I, Steward Department."
According to SIU Vice President Contracts George Tricker, "The intent of this assessment is not to disqualify a seaman's ability to retain employment, but to identify targeted training needs and or skills that require remediation. Individuals who do not receive the Culinary 2.0 Orientation/Assessment Certificate will still be eligible to return to their permanent position."
Members of the steward department should take full advantage of the new assessment courses. According to Orzechowski, "The assessment courses are for individuals to come in and reaffirm that they have the skills, and if they're unaware of certain things that are changing in the industry, it's an update on what the industry is looking for from the galley crew…. It's more about efficiency, inventory, purchasing, cooking cleaner and with more of an eye to wellness."
He concluded, "Culinary 2.0 is about instructing mariners that these industry changes are here. If a mariner is a little deficient in, say, computer skills, then we're going to get them the help they need and get them back to work. And as we continually progress with this program, they'll have the skills needed to continue to move forward in their careers."
Mariners seeking to enroll in Culinary 2.0 courses should be aware that class size is limited, and should plan ahead in order to secure a spot. If a person is applying to take one of the revalidation courses, he or she must have completed the previous Chief Cook or Chief Steward course before enrolling in the respective Orientation/Assessment 2.0 course.
# # #