November 2017
The SIU, numerous other unions and American-flag vessel operators are helping lead the initial stages of relief efforts in Puerto Rico following Hurricane Maria. It is sure to be a years-long endeavor, as the Category 4 storm devastated the territory on Sept. 20.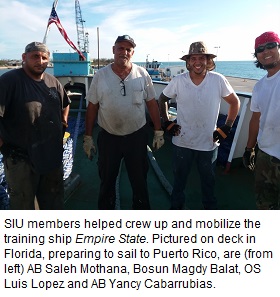 The SIU's outreach isn't confined to Puerto Rico, however. The union also is sending supplies and other help to the U.S. Virgin Islands (USVI) (home to more than 2,000 members of the SIU-affiliated United Industrial Workers) in addition to continuing with assistance in Texas and Florida. During a three-week stretch from late August to mid-September, those states and territories were struck by one or more of Hurricane Harvey, Hurricane Irma and Hurricane Maria.
Puerto Rico may have taken the worst of it. Maria left the entire island without power, caused heavy flooding and destroyed hundreds of homes. It's the strongest hurricane to strike Puerto Rico in more than 80 years, and the island was still reeling three weeks later (at press time).
While SIU-crewed Jones Act ships wasted no time delivering relief cargo to Puerto Rico, it quickly became apparent that moving the supplies from port facilities inland was in many cases impossible, due to the wrecked infrastructure. A week into October, there were 4,000 containers awaiting distribution in Puerto Rico terminals, with thousands more on the way.
More than 30 U.S.-flag ships, many of them SIU-crewed, carried cargo to the island. Those vessels included ones operated by Crowley and Tote, respectively, among others.
Despite the severe infrastructure problems, foes of the Jones Act tried to politicize the tragedy by pushing legislation to weaken or eliminate America's freight cabotage law. At press time, related bills had been introduced in both houses of Congress (see coverage beginning on page 2).
Undeterred, the domestic maritime industry delivered for Puerto Rico. Within the first 12 days of the hurricane, U.S.-flag ships had carried approximately 11,300 containers with millions of pounds of relief and other supplies to the territory. According to the coalition American Maritime Partnership (AMP), Jones Act carriers also anticipated delivering 9,000 more containers in the weeks ahead, including at least 3,300 for the Federal Emergency Management Agency (FEMA) with food, clothing, medicines and more.
Other unions in addition to maritime labor stepped up. As San Juan Mayor Carmen Yulin Cruz put it, "I put out a call for help, and who listened? The unions."
Among the AFL-CIO affiliates transporting union workers to Puerto Rico, or volunteering to stay there and help rebuild the island, were AFA-CWA, AFT, ALPA, AFSCME, Boilermakers, Cement Masons, CWA, IBEW, IBT, Ironworkers, IUPAT, Machinists, NNU, OPEIU, Operating Engineers, Plumbers/Pipefitters, SEIU, UAW, USW and Utility Workers.
Moreover, the SIU and AFL-CIO started working together in late September to facilitate collection of relief supplies on the mainland at SIU halls – and to ensure those cargoes will be delivered to union families in Puerto Rico.
Speaking of the overall relief effort made by the labor movement, AFL-CIO President Richard Trumka stated, "The working families of Puerto Rico are our brothers and sisters. And this incredible partnership will bring skilled workers to the front lines to deliver supplies, care for victims and rebuild Puerto Rico. Our movement is at its best when we work together during times of great need. But we are even better when we find common ground and partner with business and industry on solutions to lift up our communities. This endeavor is entirely about working people helping working people in every way possible. In times of great tragedy, our country comes together, and we are committed to doing our part to assist the people of Puerto Rico."
n what may be considered a bittersweet irony, the SIU temporarily moved into its new hall in Puerto Rico on Oct. 11. It was hardly the debut anyone expected or hoped for – but personnel at the hall also said they realized it was fortunate the building 457 Hillside Street wasn't severely damaged. SIU headquarters officials said the hall eventually will need more sprucing up, so the initial occupancy is supposed to be short-term.
In addition to the Jones Act ships servicing Puerto Rico, SIU members sailed aboard numerous others in anticipation of, and in the aftermath of the three hurricanes. Dating to mid-August, Seafarers crewed up the training ships Kennedy and Empire State, and also mobilized the Harry Martin, Roy Wheat, Obregon, Matej Kocak, Brittin, Cape Diamond, Cape Douglas, Cape Domingo, Cape Edmont, Wright, and Cape Decision. Members of the SIU Government Services Division sailed the hospital ship USNS Comfort to Puerto Rico; it remained stationed there along with the Kennedy and Wright.
Previously, the Wright delivered generators and other cargoes to St. Thomas in the USVI.
"We're doing everything we can to make the best of it and take care of the membership and help rebuild," said SIU Puerto Rico Port Agent Amancio Crespo. "We also need to get the word out that the Jones Act has to be maintained here in Puerto Rico. I can't believe how many lies have been told against the Jones Act."
# # #
Share
Seafarers Disaster Aid Fund Launched
The SIU has established a new fund to assist our members and retirees living in areas affected by the recent hurricanes (this includes SIU affiliates). The fund's name is Seafarers Disaster Aid Fund.
Click on the PayPal link on the SIU home page (www.seafarers.org) in order to donate. Contributions may be made using PayPal accounts, MasterCard, Visa, Maestro, Amex, Discover or any corresponding debit card. Please note that contributions cannot be accepted from contracted employers.
If donating by check, please make it out to Seafarers Disaster Aid Fund and mail to:
Seafarers Disaster Aid Fund
c/o SIU Secretary-Treasurer
5201 Auth Way
Camp Springs, MD 20746
The fund will pay out a maximum of $500 per person. We'll post and print information soon about how to apply.
Unlike prior relief funds set up by the union, the plan is to make the Seafarers Disaster Aid Fund a permanent entity. This should help expedite donations and payments in the future.