November 2017
U.S. Secretary of Transportation Elaine L. Chao and U.S. Maritime Administrator Mark Buzby unequivocally voiced the administration's backing of American mariners and the U.S.-flag fleet when they addressed the Seafarers International Union of North America convention.
Chao delivered the keynote speech Sept. 26 in Piney Point, Maryland, while Buzby was the final speaker the following day. The convention, conducted every five years, took place at the SIU-affiliated Paul Hall Center for Maritime Training and Education, which also hosted an anniversary event (see coverage on pages 6-7).
Chao is familiar with the school, having appeared there in the early 2000s while serving as U.S. Secretary of Labor under President George W. Bush. She has worked with the SIUNA and with union President Michael Sacco even longer, dating back to her days with the Federal Maritime Commission and a previous stint at the DOT.
Buzby, too, is no stranger to the union and the school. He served as commanding officer of the U.S. Military Sealift Command from 2009- 2013 and previously visited the Paul Hall Center (in addition to speaking at the 2012 SIUNA convention).
Chao opened her remarks by crediting Sacco for his effectiveness.
"You are lucky to have him," she told the delegates and guests. "I've always admired him, because from the very start, I saw a true leader who always puts the interest of his membership as the first priority in his life."
She then discussed U.S. relief efforts in Puerto Rico and the Virgin Islands (in addition to ongoing work in Texas and Florida), and commended the Seafarers and other American mariners who immediately answered the call to assist in the operations.
"The department's goal, even during this emergency, will be to maximize employment of American seafarers and American-flagged vessels in the recovery effort," Chao said. "So, we will be vigilant about requests for waivers to the Jones Act that are unnecessary to deal with the emergency."
Chao then detailed some of the administration's efforts to finalize a proposal "to rebuild and revitalize our country's infrastructure, including ports and waterways. This will be impacting every sector, and including maritime." In the works is a 10-year program, she explained, that would be expected to generate a trillion dollars in spending.
"A key part of the plan is eliminating the unnecessary bureaucratic roadblocks and delays that are holding up the delivery of new infrastructure for years, even decades," she added.
Specifically focusing on the U.S. maritime industry, she cited the importance of the U.S. Maritime Security Program (MSP). Chao also said, "We want to maximize access to U.S. government-impelled preference cargos. We want to maintain support of the Jones Act, and we want to engage, train and support American mariners…. Strengthening America's maritime industry is not an afterthought. This industry is vital to America's wellbeing, security, and prosperity."
She continued, "It's a matter of jobs, and that matters very much to this president and this administration. This sector provides so much employment that supports hundreds of thousands of families. The maritime industry supports a strong, independent way of life that's been a vital part of America since its beginning. As a daughter of a merchant mariner, this industry has deep and lasting roots in my career and also in my heart. I know this industry well. I have tremendous respect for the men and women in this industry, and for the leadership that makes sure that this sector remains vibrant and strong."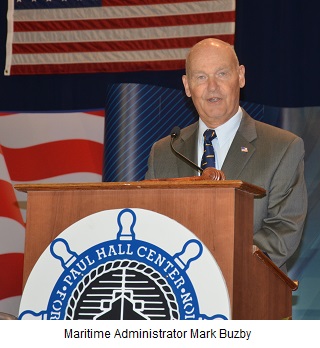 Buzby described the SIUNA as "a great maritime federation, and I know it pretty well. I have worked closely alongside Mike and (SIU Executive Vice President) Augie (Tellez), not so long ago when I was commander of Military Sealift Command. I respect both of these gentlemen and I respect this organization, and I always look forward to coming back and spending time with you."
He recalled the massive but cooperative undertaking of updating the Civilian Mariner Personnel Instruction (CMPI) 610 during his time at MSC. That project not only benefits mariners, he noted, but also reflects how different segments of the industry can and do work well together.
"I'm used to working with unions," Buzby said. "That's how I worked with them. I'm used to sitting down, rolling up our sleeves and getting things done, and that's how I intend to go forward and operate as the maritime administrator. I want that same attitude of cooperation and openness in this job as I did at Military Sealift Command."
He applauded U.S. mariners for their response to the recent hurricanes, and then recalled some of his statements from earlier this year when he was being confirmed for the MARAD job. During that process, he made it clear to Congress that the nation relies on the Ready Reserve Force (RRF), among other components of the U.S. Merchant Marine, to "execute its wartime missions, deploying and sustaining our forces overseas."
Pointing out the strong backing he has received from Gen. Darren McDew, the commanding officer of the U.S. Transportation Command, Buzby added, "Mariners of the U.S. Merchant Marine and those RRF ships are really essential assets in our ability to project our forces. I am committed to make sure that both ship-wide and crew-wise, we're ready to go when needed.
"The final priority that I discussed with Congress during my pre-meetings and hearings was strengthening those three pillars of the U.S. flag … to make sure that we keep our U.S. Merchant Marine strong," he continued. "The Jones Act, Maritime Security Program, and cargo preference are needed to keep our ships under the flag and to keep our mariners working. They are all critical elements that I am going to be defending with my full energy and I know that Secretary Chao feels the same way."
He also provided some background information on recent, temporary Jones Act waivers and vowed to stand up for America's freight cabotage law.
Buzby mentioned that the motto on the U.S. Merchant Marine flag reads, "In Peace and War." He emphasized the critical need to back the industry at all times, and stated that when he talks about maritime, "I'm really talking about the people. We need people to crew these ships and the fact is we don't presently have enough mariners to sustain our extended military mission overseas. We must take care of our merchant mariners in peacetime, ensuring they're fully employed, trained and qualified, or we won't have them in wartime. And that would be a tragedy, because our nation would be stuck."
Buzby wrapped up his speech by sharing his command philosophy, which centers on putting people first, being professional, and being "a good shipmate. When I think of the maritime community, whether it's the Navy or the merchant marine, I consider us all shipmates," he said. "That means we take care of each other and we have each other's backs."
# # #
Share