November 2017
While the U.S.-flag maritime industry immediately mobilized for disaster relief operations in Puerto Rico, opponents of the Jones Act brazenly tried to politicize the situation. Both in the halls of Congress and in erroneous media reports, legislators and reporters made one false accusation after another concerning America's freight cabotage law, starting in late September.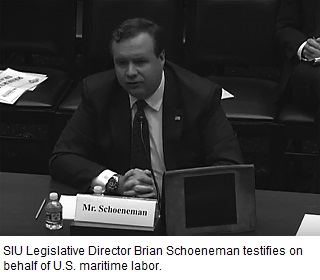 The SIU, other unions, U.S.-flag vessel operators, rank-and-file members, supportive legislators and others pushed back quickly and effectively. From Capitol Hill to social media, from television to the printed page, the domestic maritime industry rallied and set the record straight.
One of the more noteworthy moments took place Oct. 2, when the SIU testified at a hearing conducted by the U.S. House of Representatives Subcommittee on Coast Guard and Maritime Transportation. SIU Political and Legislative Director Brian Schoeneman spoke on behalf of the SIU; American Maritime Officers; Marine Engineers' Beneficial Association; and International Organization of Masters, Mates and Pilots.
The hearing followed an announcement late the prior week that the Jones Act temporarily had been waived in Puerto Rico.
Subcommittee Chairman U.S. Rep. Duncan Hunter (R-California) said in his opening statement, "Critics continue to assail the U.S.-flag fleet and the Jones Act as an antiquated industry and law, unnecessary in today's world. These critics promoted claims the law prohibited supplies from getting to Puerto Rico. However, as we know, that was false. Supplies have been getting to the island and have been backlogged at the ports, due to the devastation of logistics on the island. Foreign vessels are also bringing fuel and supplies to the island from foreign ports; the Jones Act does not prohibit that from happening."
Schoeneman said in part: "To be clear – the Jones Act is not impeding relief efforts in Puerto Rico right now. It never did. It is not forcing aid to be turned away, nor is it slowing down efforts to get relief supplies to the people who need them. Foreign-flag ships with cargo from ports outside the United States are, and always have been, allowed entry to Puerto Rico. The claim that the Jones Act is impeding relief efforts is a lie – and no matter how many times those bought-and-paid-for academics and their cronies in the media repeat that lie, it remains a lie. The amount of fake news around the Jones Act has been staggering." He added, "Despite the misinformation that has spread like a disease throughout both the mainstream media and through social media, maritime labor knows – from firsthand experience – the critical role that the Jones Act plays in keeping America safe, ensuring our economic, homeland and national security…. Make no mistake: Maritime labor has never, not once, opposed a waiver of the Jones Act in an emergency when there were not enough ships or mariners to handle the job. We have never let a ship sail shorthanded. At the same time, we have never been willing to support waivers of the Jones Act that were unnecessary." Turning his attention to newly introduced legislation aimed and permanently exempting Puerto Rico from the Jones Act, Schoeneman said, "It is critical that Congress not act rashly in response to this disaster. Some of the proposals being made, whether for long-term waivers of the Jones Act or for a permanent exception for Puerto Rico, are foolhardy and misguided at best and blatantly anti-American opportunism at worst. These legislative proposals would have severe and drastic consequences not only for Puerto Rico, but for the entire United States. Both would be unprecedented, and neither should be considered seriously without significant Congressional review and a better understanding of the potential impacts of such a drastic change to centuries of American law. We urge Congress to exercise due diligence in fact finding, and beware of misinformation and false claims being propagated by anti-Jones Act agitators who are attempting to hijack this crisis to further their agendas."
U.S. Rep. John Garamendi (D-California), ranking member of the subcommittee, stated, "Shipping carriers that comply with the Jones Act have more than enough capacity for a robust relief effort for Puerto Rico. Getting relief to the island isn't the problem. The challenge is in getting relief off the docks. Right now, 6,000 containers full of everything the island needs are languishing on the docks in Puerto Rico because there are no trucks available to distribute them. The entire American maritime industry has done outstanding work to coordinate with local governments to provide relief. The Jones Act is essential to maintain a robust shipbuilding industry and sealift capacity, and waiving it will not help solve Puerto Rico's problems."
In the midst of all this, U.S. Rep. Garret Graves (R-Louisiana) told the New Orleans Times-Picayune, "The problem isn't the Jones Act. The problem is that there was a hurricane. Logistical systems are destroyed. Trucks, highways and other transportation systems are gone…. Anyone [who] thinks this waiver just solved the problem is confused. We have a huge shipping industry on the Gulf Coast that needs the jobs and economic activity now to help economies recover from their disasters. You just took American jobs and sent them overseas."
Additionally, the American Maritime Partnership (AMP) – a major coalition representing all components of the domestic maritime industry – posted numerous facts about the Jones Act as the relief efforts (and the legislative attacks) continued. Among other points, AMP noted the following as of Oct. 2:
Changing the Jones Act in the Middle of the Recovery Effort Would Disrupt a Stable, Reliable Element of Ocean Transportation in Puerto Rico at the Worst Possible Time.
The American maritime industry is working closely with stakeholders in Puerto Rico as part of hurricane recovery efforts, and, by all accounts, the ocean shipping efforts have been highly successful. Homeland Security Advisor Tom Bossert has publicly said that American shipping capacity is a key part of the recovery effort and that there are no Jones Act capacity issues. Domestic American companies have deployed 23 Jones Act vessels with multiple sailings each week to Puerto Rico. At least 11,300 containers with millions of pounds of relief supplies have already been delivered to Puerto Rico on American vessels.
GAO Has Found that the Jones Act Provides Important Benefits to Puerto Rico and Changing the Jones Act There Could Be Harmful to the Local Economy and National Security Readiness.
The definitive study of the Jones Act in Puerto Rico was prepared in 2013 by the U.S. Government Accountability Office (GAO), a rare unbiased, non-partisan analysis of this subject. GAO's study found that "the [Jones Act] has helped to ensure reliable, regular service between the United States and Puerto Rico – service that is important to the Puerto Rican economy."
A Long-Term Waiver of the Jones Act Would Outsource American Shipping Companies and American Jobs – Including Puerto Rican Jobs – to Foreign Interests.
A long-term Jones Act waiver is nothing more than a scheme to replace American companies and workers with foreign companies and workers in the Puerto Rican shipping trades. It seems particularly harsh to propose replacing the Puerto Rican workers, who have dedicated themselves to keeping cargo moving during the crisis, and American shipping companies that have invested hundreds of millions of dollars in Puerto Rico. In addition, a change in the law in one major Jones Act trade could have widespread ripple effects in shipbuilding and other domestic shipping trades throughout the United States, making America more vulnerable without a compensating benefit.
The Supposed 'Cost' of Jones Act Shipping in Puerto Has Been Wildly Exaggerated.
It appears that the primary argument against the Jones Act in Puerto Rico is that it adds to transportation costs by requiring American companies and workers. Some have gone so far as to say that the Jones Act doubles the cost of consumer goods in Puerto Rico, a preposterous statistic with no basis whatsoever. The "cost" argument ignores the basic fact that Jones Act vessels must compete every day against foreign ships for customers in the Puerto Rican marketplace; in fact, two-thirds of the vessels serving Puerto Rico are foreign. Even GAO has rejected the so-called "cost" findings.
America Has the Jones Act for a Reason.
The Jones Act and the American domestic fleet provide economic, national, and homeland security benefits across the United States. The domestic maritime industry contributes to approximately 500,000 American jobs, including jobs in Puerto Rico, and nearly $100 billion in economic impact annually, according to PricewaterhouseCoopers. U.S. military leaders and homeland security officials are among the strongest supporters of the Jones Act because it makes our nation more secure. In addition, the Jones Act reduces massive federal costs that would be necessary if there was no strong American fleet to help monitor the U.S. maritime border, support the domestic commercial shipbuilding industry, and provide a pool of trained mariners that is called on to support America's sealift capacity requirements.
# # #
Share