September 2017
The Seafarers Health and Benefits Plan office last month conducted a series of educational conferences, and more are scheduled.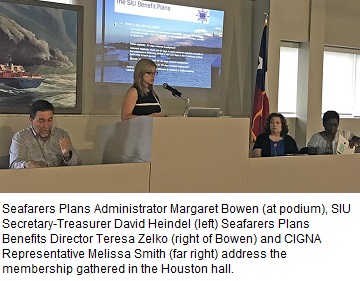 The inaugural session took place Aug. 7 at the union-affiliated Paul Hall Center for Maritime Training and Education in Piney Point, Maryland. This event was followed by conferences at SIU halls in the ports of New Orleans (Aug. 11), Houston (Aug. 14) and Jacksonville, Florida (Aug. 16).
Designed to educate rank-and-file-members as well as union employees, the conferences focused on various Seafarers Plans. Conference goals were to make enrollees aware of benefits available to them under each plan. Special emphasis was placed on points that plan participants may not have known about.
Each conference was slightly more than one hour in duration and featured remarks by SIU Secretary-Treasurer David Heindel; Seafarers Plans Administrator Maggie Bowen; Seafarers Plans Benefits Director Teresa Zelko and CIGNA Representative Melissa Smith.
Future benefits conferences, their respective dates and locations are as follows: Aug. 28 – Port of Jersey City, New Jersey; Aug. 30 – Port of Norfolk, Virginia; Dec. 11 – Port of Tacoma, Washington; Dec. 12 – Port of Wilmington, California, and Dec. 13 – Port of Oakland, California.
Plans officials pointed out that conferences specifically for SIU members will commence promptly at 10:30 a.m. at each location and continue until approximately noon. The events are open to members, pensioners and their families.
# # #
Share