August 2017
Even in an industry that has seen its share of early entrants, Vern Poulsen started sailing sooner than most.
The Denmark native first went to sea at age 14, marking the beginning of a maritime career that would span 66 years, including 52 with the SIU. He was renowned for his dedication as the shore-gang bosun in Tacoma, Washington – a post he ably manned from the late 1980s until he stopped working in 2014.
Poulsen passed away May 30 in Puyallup, Washington, at age 83. The strong turnout for his memorial service reflected both his popularity and the genuine respect of his co-workers and others who knew him.
"I've known Vern for at least 14 years, and I've always known him to be an upstanding person," said SIU Tacoma Port Agent Joe Vincenzo. "He had an amazing work ethic and was a great bosun. Vern was always a strong union supporter. He was a likeable and generous man, a stand-up guy and a straight shooter."
Kenneth Kramlich, retired bosun's mate, knew Poulsen for around 50 years. They sailed together and then worked together for 23 years on the shore gang.
"He could be a tough guy to work for, but he had a heart of gold," Kramlich said. "You could get into an argument with him and be yelling back and forth, but then an hour later, you're hugging each other."
Kramlich fondly recalled socializing with Poulsen, describing him as an enthusiastic cook and (at the appropriate times) an eager consumer of akvavit, a Scandanavian spirit.
"Vern was a very good man and he helped a lot of people," he stated. "He'd do anything for anybody. That includes loaning people money, and I'm sure he still had a lot owed to him."
Recertified Bosun Chris Pompel, while stressing that others knew Poulsen more closely, nevertheless worked with him enough times to firmly describe him as "a larger-than-life character. He made sure the ships were well taken care of, and he was an amazing, encouraging fellow to so many. Vern was no pushover, but he was a friend to everybody if they had a problem," Pompel said.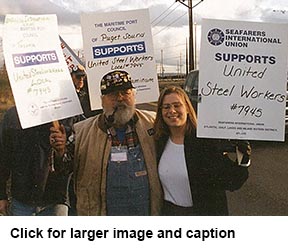 Retired Recertified Bosun Terrance Murphy called Poulsen "a sailor's sailor. He had salt in his veins, that's for sure. He was fire and brimstone and he was a pleasure to work for. I worked with him for about 15 years on the shore gang."
Murphy continued, "He'd seen it all and done it all, so he had great sea stories. He was great to listen to. We'd get him going during coffee and keep him going until he realized we were past our break time. But his stories were interesting. I could go on forever about Vern."
Retired Chief Cook Ronnie Woodruff knew Poulsen for 30 years.
"He treated everybody like family," Woodruff said. "Anybody who came to work with us, he treated them with respect. He was patient and kind, but he was stern, too."
Poulsen's sailing career lasted 36 years and included trips under the Norwegian, Swedish, Danish, Panamanian and U.S. flags. He joined the SIU in 1962, initially sailing with Victory Carriers.
He started working for the shore gang in 1984 and became bosun a few years later.
Interviewed for a magazine article some years ago, Poulsen recalled sailing aboard the Sea-Land Anchorage in the mid-1960s on what was described as the first winter call at Anchorage, Alaska. The vessel made its way through ice-clogged Cook Inlet in gale winds.
"You just can't imagine the noise the ship made as it broke through the ice," Poulsen remembered. "There was no insulation in the bulkhead, and the metal and ice grinding was so loud. As the ship cruised forward, you could feel it plunge over the thick ice and buck as it broke through."
Poulsen is survived by his daughters, Anna Howerton and Vanya Poulsen; his son-in-law, Fred Howerton; and his granddaughters, Carrae Poulsen-Howerton and Kamarie Poulsen-Howerton; and his sister, Mary Hejselbaek.
###
Share