April 2017
The magnitude of the moment was reflected by the stature of the keynote speaker.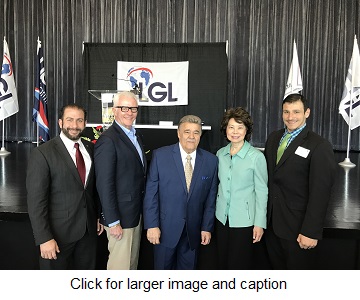 U.S. Secretary of Transportation Elaine Chao delivered remarks March 3 in Beaumont, Texas, as the SIU-crewed car carrier Liberty Passion formally was welcomed into American-flag registry. SIU President Michael Sacco also spoke at a related event immediately afterward.
SIU Vice President Gulf Coast Dean Corgey, Assistant Vice President Mike Russo and Patrolman Joe Zavala also attended the event. Fr. Sinclair Oubre, a Seafarer who is port chaplain for the Apostleship of the Sea for Port Arthur, Texas, gave the invocation.
The Liberty Maritime-operated Liberty Passion flagged into U.S. registry Jan. 26 in Bahrain. Built earlier this year in Korea, the ship is 656 feet long and has a beam of nearly 106 feet. It is enrolled in the U.S. Maritime Security Program (MSP).
A longtime backer of U.S. crews and American-flag shipping, Secretary Chao in her prepared remarks stated, "A U.S.-flagged sealift capacity – crewed by U.S. Merchant Mariners – is vital to our national security. Ships are the most reliable and economical way to carry armored and other vehicles, as well as ammunition, equipment and supplies. The Liberty Passion can carry as many main battle tanks as 100 C-17 heavy lift aircraft, with a fraction of the fuel consumption. And it can sail during all kinds of weather. This capacity and reliability provides critical commercial sealift and intermodal capabilities to our armed forces, when they need it most."
Speaking about the latest addition as well as two other SIU-crewed Liberty Maritime vessels that are enrolled in the MSP, Secretary Chao added, "Today we are celebrating a public-private partnership that is strengthening America's merchant marine, as well as America's armed forces…. They are investments for greater economic activity and prosperity during peace, and greater strength and security in times of war."
Sacco said the ceremony marked "a great day for my union, and I also think it's a great day for America…. When I look at the Liberty Passion, the first thing I see is jobs for my members. I'm sure that comes as a shock to those of you who know me…. Whenever we're adding or maintaining good jobs, I think it's worth celebrating."
He said the ship represents "American jobs and American strength. It also stands for something else that's vitally important, and that's our industry's role as America's fourth arm of defense. As part of the Maritime Security Program fleet, this vessel and her civilian crew will always be ready to deliver the goods for our men and women in uniform – anywhere around the world, whenever needed."
# # #